Hi Friends,
Today I am sharing with you a simple veg.side dish recipe made with Banana (plant) Stem. It is a traditional Bengali recipe and very quick and easy to prepare. The dish is very tasty to eat and also nutritious. In Bengal it is called "Thor Ghanto". It goes well with steamed Rice/Roti/Paratha.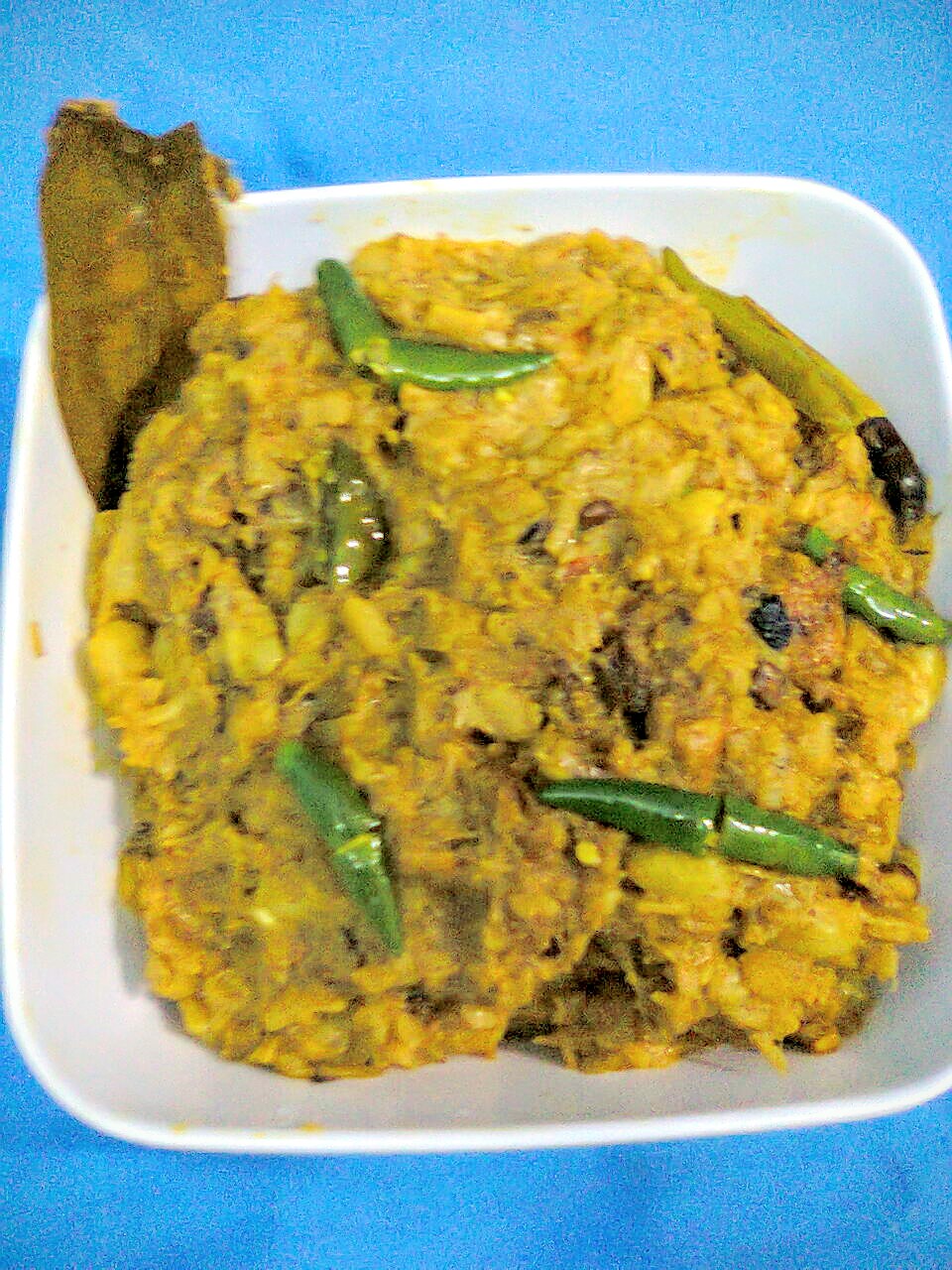 Cooking time – 45 minutes.  Serve – 4
Ingredients –
1.Thor – 2 nos.
2.Potato – 1 (peeled and cut into cubes.)
3.Tomato – 1 (chopped)
4.Bay leaves – 2
5.Cumin seeds – 1/2 tsp.
6.Ginger paste – 1/2 tsp.
7.Turmeric powder – 1/2 tsp.
8.Red chilly powder – 1/4 tsp.
9.Cumin powder – 1/4 tsp.
10.Salt to taste.
11.Sugar – 1/2 tsp.
12.Oil – 4 tbsp.
13.Ghee – 1 tbsp.
14.Garam masala powder (optional) – 1/4 ttsp.
15.Slit green chilly – 4.
16.Wheat flour – 1 tbsp.
Instructions –
1.Thor is coated with few shells. Take one piece of thor, slit lengthwise and discard the hard shells. Once you reach the core, then peel it off. Cut the soft thor into thin round slices. There is a thread like fibres, discard them by spindling on index finger. Now chop the round slices finely and soak in water for 20 minutes and drain well.
2.Put the chopped thor in a pressure cooker and cook up to one whistle. Allow it to cool naturally. Transfer the boiled thor to a colander. Mash it lightly with hand.
3.Heat oil in a frying pan,add the potato cubes and fry lightly. take out the fried potato from the pan,keep aside.
4.Add cumin seeds and bay leaves in the remaining oil. when the cumin looks brown, add tomato. Saute for 1 minute. Add ginger paste,masala powders (turmeric,chilly,cumin) and 1/2 cup of water. Mix well and saute on slow flame till oil separates. Add the boiled thor and 1/2 cup of water. Saute for 3 to 4 minutes. Add the fried potato,salt,sugar,green chilly and 1/2 cup of water. Mix well. Keep cooking till all the water evaporates. Sprinkle wheat flour, mix well and cook for 2 minutes with stirring continuously.
Remove pan from the heat,mix ghee and garam masala powder. Cover the pan and give 10 minutes standing time. Delicious Thor Ganto is ready to serve. You can garnish it with lightly fried Raisins.