Hi Friends,
Today I am going to make a mouth watering sweet fritters recipe with ripe mangoes.It's a summer time sweet snacks recipe.It's a delicious and a quick recipe.Specially kids like it a lot.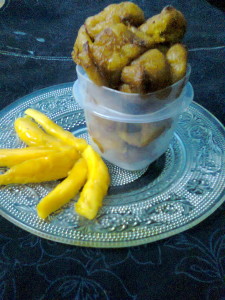 Cooking Time – 30 minutes  Serves – 4
Ingredients
Mango Pulp – 2 cups
Semolina (Suji) – 3/4th cup
Flour (maida) – 1 cup
Sugar – 2 tbsp (Depends on the sweetness of the Mango)
White Oil for deep frying
Method
To Make Mango Pulp – Wash the Mangoes and peel the skin off.Then Cut the mango it pieces.Using a blender, blend to a smooth puree.Put the puree in a strainer or in a muslin cloth for 45 minutes.Put a bowl under the strainer to collect the juice.(The juice can be used to make mango lassi or sorbet or ice pops etc).
Put the Mango pulp in a large mixing bowl.To this add semolina,sugar and flour.Mix well. The mixture should be a thick consistency.Add extra flour if needed.Let it rest for 20 minutes.
Heat the oil in a frying pan.When it becomes hot,reduce the heat.Take small portion of the mango mixture to make small balls.Then drop the balls into the oil one by one.Fry until they turn into golden brown color.Take out the fried balls from the oil and put on the paper towel to soak excess oil.Repeat the same process for rest of the mixture.
Aam Bora is ready to serve. Enjoy this yummy fritters in summer partys,birthday partys or as evening snacks.I am sure your family and guests will love it a lot.
Thanks for viewing my recipe. Please try it at home and let me know how it turn out!.