Hi Friends,
Today I am sharing with you a delicious dessert recipe made with vermicelli and lychee. It is one of the easiest dessert recipe that can be prepared very quickly and with few ingredients. It is a simple dessert but very tasty to eat and looks beautiful. In this recipe I have used raw vermicelli, you can buy roasted vermicelli from the store. In that case you don't need to roast it, just mix 1 tbsp.of ghee with the vermicelli.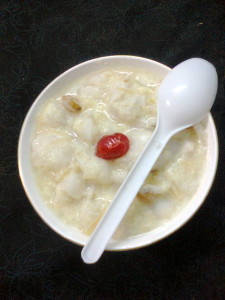 Cooking time – 30 minutes.  Serve – 4
Ingredients –
1.Vermicelli – 1 cup (broken into small pieces)
2.Ghee – 1 tbsp.
3.Milk (full cream) – 1/2 liter.
4.Sugar – 3 tbsp.
5.Lychee – 500 grams.
6.Raisins – 25 grams.
7.Cardamom powder – 1/2 tsp.
Method –
1.Peel the lychees and discard seeds and cut into pieces.keep aside.
2.Warm ghee in a frying pan, add the broken vermicelli. Fry on slow heat for 2 minutes with stirring continuously. Add milk and stir until combined. Let it bring to boil in medium heat.Cook for 5 to 7 minutes or until the vermicelli is cooked. Add sugar,mix well and cook for 2 minutes. When the milk starts thickening add the chopped lychees,raisins and cook for 1 minute. Add cardamom powder,mix well. Remove pan from the heat, cover and give 10 minutes standing time. [Vermicelli tends to get thick when cool down, so add enough milk]
Delicious summer dessert is ready,garnish and serve. If you like chilled, keep it in refrigerator until it cool down.