Hi Friends,
Today I am sharing with you Kolkata style veg.Chou Mein recipe. It is a quick and easy to make recipe. It is a popular street food in Kolkata, very tasty to eat and easy to make at home. In this recipe I have used winter vegetables. You can use Potato, nuts, soya chunks or mushroom.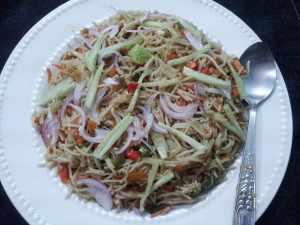 Cooking time – 30 minutes.   Serve – 4
1.Noodles – 400 grams.
2.Onion (large) – 1 (sliced)
3.Chopped garlic – 1 tbap.
4.Carrot – 1 (cut into thin strips)
5.French beans – 50 grams (chopped)
6.Shredded cabbage – 1 cup.
7.Capsicum – 1 (cut into strips)
8.Green chilly – 2 (chopped)
9.Pepper powder – 1 tsp.
10.Salt to taste.
11.Sugar – 1/4 tsp.
12.Soya sauce – 1 tbsp.
13.Veg.oil – 4 tbsp.
14.Water – 1/2 cup.
Method –
1.By adding 1 tbsp.of salt boil 1+1/2 liters of water in a pan, add noodles. Cook it for 3 to 4 minutes. Once it is cooked,remove from flame. Transfer the boiled noodles to a colander.  Rinse well in cold water (2-3 times) and drain. Add 2 tbsp.of oil to the drained noodles and mix well. Keep aside (do not cover the noodles).
2.Heat 2 tbsp.of oil in a non stick frying pan, Add onion,garlic,carrot,beans,cabbage and capsicum. Stir for 2 to 3 minutes. Add the boiled noodles to the vegetables and mix well. Add salt,sugar,soya sauce,pepper powder and green chilly. Toss it or stir with a spatula and sprinkle water occasionally. Cook for 4 to 5 minutes on high flame.
Kolkata Style Veg.Chou Mein is ready, garnish with onion and cucumber strips, sprinkle tomato ketchup and serve hot.