Hi Fiends,
Today I am sharing with you an easy to make dessert recipe – Custard Cake. It is a simple dessert recipe but very tasty to eat. In this recipe I have used egg, you can make eggless cake and can use any fruits and dry fruits and nuts. It is a delicious dessert and unique for a summer party.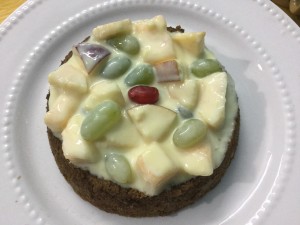 Cooking time – 10 minutes.   Serve – 4
Ingredients – [For the fruit custard]
1.Chopped fruits (apple,banana) – 2 cups.
2.Grapes – 100 grams.
3.Milk – 1/2 liter. + 1/2 cup
4.Vanilla custard powder – 1 tbsp.
5.Milk powder – 2 tbsp.
6.Sugar – 2 tbsp.
Method –
Mix custard powder,milk powder and sugar in 1/2 cup of milk and keep aside. Heat 1/2 liter 0f milk. When hot add the custard powder mix and cook on low flame with stirring continuously till the custard is thick (for 3 minutes). Remove the pan immediately from heat and wait for its normal temperature. Mix all the fruits and let it cool in the refrigerator.
Ingredients – (For the cake)
1.Flour – 1/2 cup.
2.Powdered sugar – 1/2 cup.
3.Egg (beaten) – 1
4.Milk – 1/2 cup.
5.Instant coffee powder – 3/4 tbsp.
6.Baking powder – 1 tsp.
7.Baking soda – 1/4 tsp.
8.Veg.oil or melted butter – 4 tbs.
5.Vanilla essence – 1 tsp.
6.Lime juice – 1 tbsp.
Method –
Grease a microwave safe  bowl and dust it with flour,keep aside. Sieve flour,baking powder and baking soda. keep aside. Warm milk,add coffee powder and mix well. In a large bowl add egg,sugar,oil and beat well. Add the coffee and beat again. Add oil and vanilla, mix well. Add flour mix,fold into the mixture. At last add lime juice,mix gently. Pour the batter into the greased bowl. Tap the bowl slightly and immediately place in the microwave oven. At high power microwave for 3 to 4 minutes. Cake is ready. Insert a tooth pick, if it is comes out clear, the cake is ready. Give 5 minutes standing time. Take out the bowl from the oven, let it cool completely. Run a knife around the bowl and invert it on a tray.
Cut the cake horizontally into 2 halves. Take one portion, spread 1/2 cup of fruit custard on top.
Delicious custard cake is ready, garnish with cherry/dry fruits and serve.