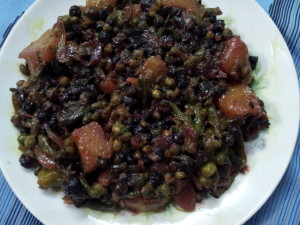 Hi Friends,
Today I am sharing with you a side dish recipe made with Malabar Spinach Seeds. It is a typical Bengali recipe and very popular in West Bengal and Bangladesh. In Bengal it is called 'Pui Mituli'. It is a simple dish but very tasty to eat. The process of making the dish is very simple and with few ingredients.
Cooking time – 30 minutes.  Serve – 4
Ingredients –
1.Malabar spinach seeds – 250 grams.
2.Potato – 1 (peeled and cubed)
3.Onion – 1 (finely chopped)
4.Ginger (grated) – 1/4 tsp.
5.Garlic (chopped) – 1/2 tsp.
6.Green chilly (slit) – 4.
7.Turmeric powder – a pinch.
8.Salt to taste
9.Sugar – a pinch.
10.Oil – 2 tbsp.
11.Panch foran – 1/2 tsp.
12.Dry red chilly – 2
Method –
Wash the seeds and potato cubes,keep aside. Heat oil in a frying pan,add dry red chilly (broken) and fry till light brown. Reduce the heat,add Panch foran. Stir fry until the spices give out their aromas. Add onion,fry till onions are transparent. Add potato cubes,ginger and garlic. Fry for 2 minutes. Add the Malabar spinach seeds,salt and turmeric powder.Mix well.Fry for 2 minutes.Add 2 cups of water,sugar and green chilly.Cover the pan and cook till the seeds are soften and water dries up (stir in between).
Remove pan from the heat,cover the pan and give 10 minutes standing time. Delicious Malabar Spinach Seeds Curry is ready, serve as a first item for lunch.