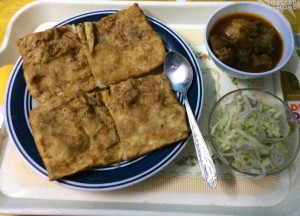 Hi Friends,
Today I am sharing with you Mughlai Paratha recipe. It is a famous and popular street food in Kolkata. For making the food I used Mutton keema, you can use Chicken or Soya keema also. Mughlai Paratha is very tasty to eat and the process of making the dish is not difficult.
Cooking time – 45 minutes.  Serve – 4
Ingredients – For the stuffing
1.Keema – 200 grams.
2.Onion (large) – 1 (chopped)
3.Ginger paste – 1/2 tsp.
4.Garlic paste – 1/2 tsp.
5.Turmeric powder – 1/4 tsp.
6.Chilly powder – 1/2 tsp.
7.Salt to taste.
8.Oil – 2 tbsp.
9.Garam masala powder – 1/2 tsp.
10.Green chilly – 2 (chopped)
Method –
Heat oil in a frying pan, add onion and fry until light brown. Add Keema,ginger,garlic,turmeric,chilly and 1/2 cup of water. Reduce the heat and saute till oil separates. Add 11/2 cups of water and salt and let it bring to boil (in medium heat). Keep cooking till all the water evaporates. Remove pan from the heat,add chopped green chilly and garam masala powder.Mix well.Cover the pan,keep aside.
Ingredients – For the Paratha
1.Flour – 250 grams.
2.Baking powder – 1/4 tsp.
3.Salt – 1 tsp.
4.Oil – 2 tbsp.
5.Egg  – 4
Method –
Take a large bowl, add flour,salt,baking powder and 2 tbsp.of oil. Mix well. Add water and knead well until it forms a very soft dough.Cover the dough with a wet cloth. Keep aside until use. After few minutes knead the dough again and divide into 4 equal parts and make balls. Take one ball in rolling board and using oil roll out as thin as possible.
Place a griddle on medium heat,spread 1 tbsp.of oil. Place the thin paratha on it. Spread one beaten egg on the paratha and 1 tbsp.of keema mix in the middle. Fold the paratha gently both sides to the center to cover the keema fillings. Then fold other two sides to center to form a square.
Press the paratha gently, spread 1 tbsp.of oil and cook for 2 to 3 minutes. Flip it up, spread 1 tbsp.of oil,press gently and cook for 2 minutes. Take out from the griddle.
Repeat the same process with rest of the flour balls. Mughlai Paratha is ready to serve. Place the paratha in a serving tray,cut into four portions and serve with any gravy (Mutton/Chicken/Potato)