Hi Friends,
To day I am posting a very nutritious recipe of Amla. It is an easy to make recipe which requires no sunlight. It is a healthy recipe because in this recipe the juice of the Amla stays within. It is non spicy, helps in digestion and urinary system,supports the heart,increases skin health,strengthens eyes and acts as an anti oxidant. It can be eaten after Lunch or Dinner or at any time. It can be stored in Fridge for future use.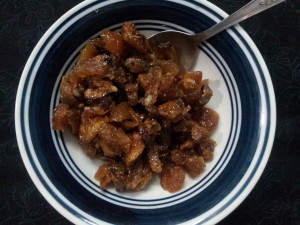 Cooking time – 20 minutes.
Ingredients –
1.Amla – 500 grams.
2.Salt – 1 tbsp.
3.Sugar – 2 tbsp.
Method – Wash the Amlas well and wipe them dry. Prick the Amlas (4 to 5 times) with a fork or knife. You can cut them using a Betel Nut cutter. Put the Amlas in a Microwave safe bowl. To this add salt and mix well. Microwave for 15 minutes at high power (stir in between). Take out the bowl from the Microwave and allow it to cool. Remove the seeds of the Amlas with your hands. Now add sugar and mix properly. Again microwave for 4 to 5 minutes at high powder.
Healthy Juicy Amla is ready.It can be stored in Fridge for future use.