Hi Friends,
Today I am posting a delicious snacks recipe made with boneless fish. It is an easy to make recipe and takes few minutes to prepare. It is a deep fried snacks, can be served as a starter or as a tea time snacks. In this recipe I have used Aar fish, you can use Rohu,Bhetki or any boneless fish. Fish Ball is very tasty to eat and perfect for parties.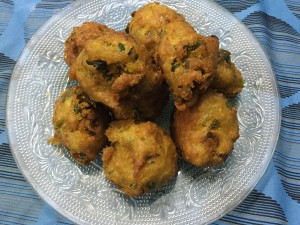 Cooking time – 45 minutes.   Serve – 4.
Ingredients –
1.Fish – 350 grams.
2.Potato (large) – 1
3.Corn flour – 4 tbsp.
4.Egg –  1 (beaten)
5.Onion (large) –1 (finely chopped)
6.Green chilly – 3 (finely chopped)
7.Coriander leaves (chopped) – 1/2 cup.
8.Ginger paste – 1/2 tsp.
9.Garlic paste – 1/2 tsp.
10.Pepper powder – 1/2 tsp.
11.Oil for deep frying.
12.Lime juice – 2 tbsp. And salt to taste.
Method –
1.Wash and marinate the fish with 1/2 tsp.of salt,keep aside. Using a grater grate the boiled potato or mash the potato with hand.
2.Heat 2 tbsp.of oil in a frying pan. Fry the fish lightly on both sides. Remove pan from the heat and discard bones. Mash the boneless fish with hand.
3.In a large bowl put the mashed potato and fish. To this add onion,ginger,garlic,corn flour,chilly,coriander leaves,egg,pepper powder,lime juice and salt. Mix very well. You can use a blender also. The mixture should be dry. If needed add extra corn flour. divide the mixture into small portions.
4.Heat oil in a frying pan, when hot reduce the heat. Add the fish balls, fry till they turn golden brown. Fry 3 to 4 balls at a time. Raise the heat and take out the fried fish balls with a slotted spoon and keep in paper towels.
Delicious Snacks – Fish balls is ready. Serve hot with chutney or ketchup.