Hi Friends,
Today I am posting a delicious Pulao recipe made with cauliflower. It is an authentic Bengali recipe,can be prepared very quickly in pressure cooker. It is a popular main course recipe and one of the simplest one pot meal. The dish is rich in flavor,tasty to eat and also a good option for lunch box. You can prepare it in a pan (with lid /oooking time – 35 minutes on slow flame)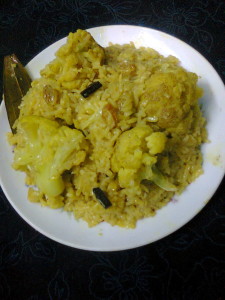 Cooking time – 7 to 8 minutes.  Serve – 4
Ingredients –
1.Cauliflower – 1 (cut into florets)
2.Basmati rice – 2 cups.
3.Onion – 1 (chopped)
4.Garlic paste – 1/2 tsp.
5.Ginger paste – 1/2 tsp.
6.Turmeric powder – 3/4 tsp.
7.Red chilly powder – 1/2 tsp.
8.Cumin powder – 1/4 tsp.
9.Coriander powder – 1/2 tsp.
10.Salt to taste.
11.Sugar – 1/2 tsp.
12.Raisins – 50 grams.
13.Cumin seeds – 1/2 tsp.
14.Bay leaves – 2.
15.Oil – 4 tbsp.
16.Ghee – 2 tbsp.
17.Cinnamon – 2 sticks.
18.Cardamom – 4 (crushed)
19.Clove – 6.
20.Water – 2+3/4 cups.
Method –
1.Wash and soak the rice in water for 20 minutes and drain well. Marinate the rice with 1/2 tsp.of salt and a pinch of turmeric powder. Wash the cauliflower florets and by adding 1 tbsp.of salt soak the florets for 20 minutes and transfer to a colander. Marinate the florets with 1 tsp.of salt and a pinch of turmeric powder. Keep aside.
2.Heat 4 tbsp.of oil in a frying pan, add the florets and fry for 2 minutes. Remove pan from the heat,keep aside. Place the pressure cooker on heat, add ghee. Add whole garam masala (cinnamon,cardamom,clove), bay leaves and cumin seeds. When the cumin looks light brown add chopped onion and fry till light brown. A
dd the rice and fry for 2 minutes. Add ginger,garlic,masala powders (turmeric,chilly,cumin,coriander) and 1 cup of water. Saute for 2 to 3 minutes. Remove the cooker from heat. Add water,salt,sugar,raisins and cauliflower florets. (you can add slit green chilly also). Mix gently. Place the cooker on medium heat and cook for 4 to 6 minutes (one whistle).
Remove the cooker from the heat, allow it to cool naturally for 5 to 6 minutes. Release the pressure.
Delicious Cauliflower Pulao is ready, open the cooker and serve hot.