Hi Friends,
Today I am posting a delicious sweet recipe made with flour and sugar. It is called Sweet Khurma. It is a simple snacks,crunchy and very tasty to eat. We can't think of any India fairs without Sweet Khurma. It is that much popular in India,but very easy to prepare at home.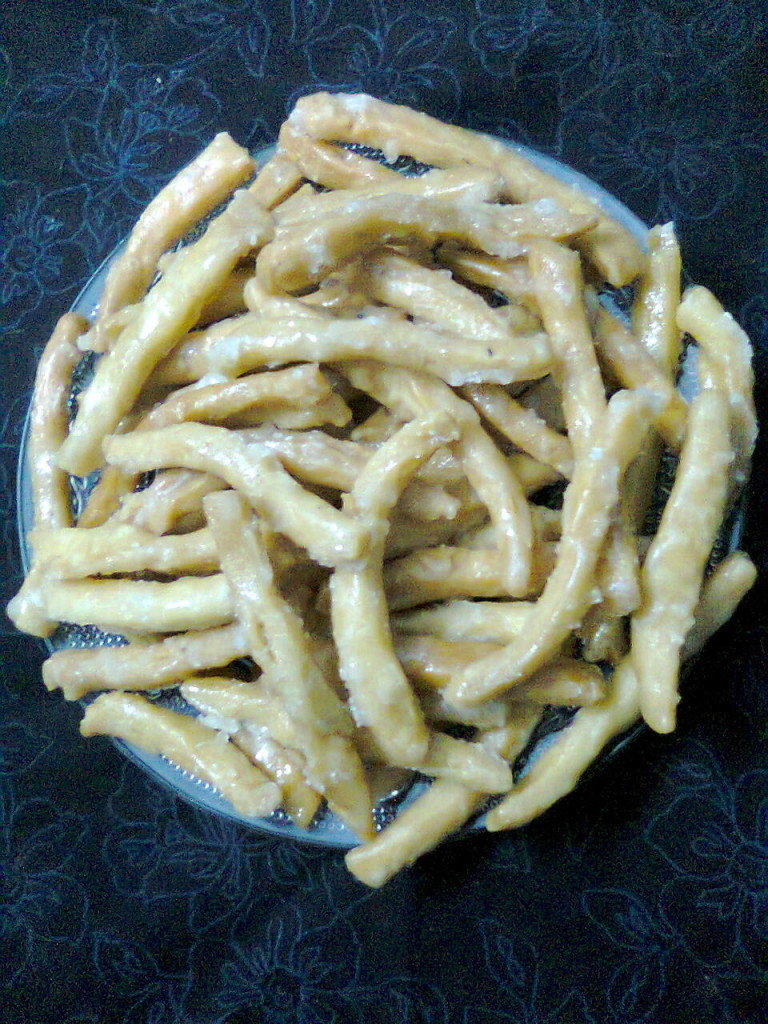 Cooking time – 45 minutes.  Serve – 4
Ingredients –
1.Flour (maida) – 2 cups.
2.Salt – a pinch.
3.Veg.oil – 1/2 cup (for the dough)
4.Sugar – 2 cups.
5.Water – 3/4 cup.
6.Oil for deep frying.
Method –
1.Take a large bowl, add flour and salt and mix well. Add 1/2 cup of oil. Rub flour with oil for 5 minutes. Add water little by little and knead lightly to form a dough.Cover the dough with a moist cloth and allow it to rest for 30 minutes.
2.After 30 minutes divide the dough into two parts. Take one part and using flour roll it into 1/3 inch thickness. Cut the rolled into thin strips.
3.Heat enough oil in a frying pan. When hot reduce the heat. Group the flour strips into 4 to 5 batches. Fry each batch until golden brown. The temp.of the oil should be low. Take out the fried strips with a slotted spoon and keep in a large bowl.
4.Boil sugar and water in a pan. Stir continuously till a thick syrup is found. Put a drop of syrup in a cup of cold water, if it forms a hard ball the sugar is ready. Using a spoon add the syrup over the fried strips. Mix fast but carefully. Coat all the strips with syrup. Allow it to cool completely.
Delicious sweet snacks Khurma is ready, enjoy it anytime at any occasion.