Hi Friends,
Today I am sharing with you a simple fish paturi recipe made with Kachki fish. It is a traditional Bengali recipe,very quick and easy to prepare and with few ingredients. The dish is delicious and very popular in West Bengal and Bangladesh.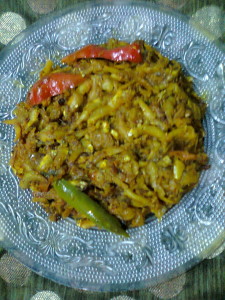 Cooking time – 30 minutes.  Serve – 4
Ingredients –
1.Kachki fish – 250 grams.
2.Tomato (large) – 1 (chopped)
3.Onion (large) – 1 (chopped)
4.Garlic paste – 1/2 tsp.
5.Ginger paste – 1/4 tsp.
6.Turmeric powder – 1/2 tsp.
7.Red chilly powder – 1/2 tsp.
8.Coriander powder – 1/2 tsp.
9.Salt to taste.
10.Coriander leaves (chopped) – 4 tbsp.
11.Slit green chilly – 4
12.Mustard oil – 1/4 cup.
Method –
1.Wash the fish well (at least 4 to 5 times) and keep in a colander. Grind onion and tomato to a paste. Transfer the paste to a large bowl. To this add ginger-garlic paste, turmeric-chilly-coriander powders and salt. Mix well. Now add fish,coriander leaves and green chilly. Mix properly. Allow it to rest for 10 minutes.
2.Heat oil in a non stick frying pan,when hot reduce the heat. Add the fish masala mix. Using a spatula spread it slightly. Cook for 8 to 10 minutes in slow heat. Flip it with a spatula. (You can toss it.) Cook another side for 7 to 8 minutes. When oil starts floating remove pan from the heat.Cover and give 7 to 8 minutes standing time.
Delicious Kachki Macher Paturi is ready, serve with hot white rice.