Hi Friends,
Today I am sharing with you a delicious fish Preparation made with Tengra fish and winter vegetables(Radish,Flat beans,Eggplant and potato).It is a traditional Bengali recipe. In Bengal it is very popular and called "Tengra Macher Tartara".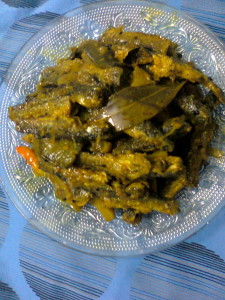 Cooking time – 40 minutes.  Serve – 4.
Ingredients –
1.Tengra fish – 250 grams.
2.Chopped vegetables – 2 cups.
3.Panch foran (or kalonji) – 1/2 tsp.
4.Bay leaves – 2
5.Tomato – 1 (chopped)
6.Onion (large) – 1 (chopped)
7.Ginger-garlic paste – 1 tsp.
8.Turmeric powder – 1/2 tsp.
9.Chilly powder – 1/2 tsp.
10.Cumin powder – 1/2 tsp.
11.Coriander powder – 1/2 tsp.
12.Salt to taste.
13.Slit green chilly – 4.
14.Oil – 1/2 cup.
15.Coriander leaves (chopped) – 2 tbsp.
Method –
1.Wash the fish with lukewarm water,marinate with 1 tsp.of salt and a pinch of turmeric powder, keep aside. Take a bowl, add ginger-garlic paste and all the masala powders (turmeric,chilly,cumin, coriander). Mix well. Keep the masala mix aside.
2.Group the fishes into 3 batches. Heat oil in a frying pan. Fry each batch till brown. (Add fish in frying pan,cover the pan and fry).Take out the fried fish from the oil,keep aside.
3.Add panch foran and bay leaves in the remaining oil. Fry for 30 seconds. Add onion, fry till light brown.Add the chopped vegetables and tomato. Fry for 2 minutes (in slow heat). Add the masala mix and 1/2 cup of water.Saute till oil separates.Add 2 cups of water,let it bring to boil (in medium heat). Add the fried fish,salt and slit green chilly. Keep cooking till all the water evaporates.
Remove pan from the heat,add coriander leaves,cover the pan and give 10 minutes standing time. Delicious Tengra Fish Curry is ready,serve with hot Rice.