Hi Friends,
Today I am posting a delicious snacks Fulkopir Shingara / Gobi Samosa recipe made with cauliflower,potato and green peas. It is a famous street food in India, generally made in winter season. The process of making this type of shingara is not very difficult, you can make easily at home.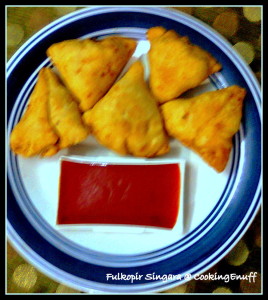 Cooking time – 45 minutes.   Serve – 4
Ingredients for the stuffing –
1.Chopped cauliflower florets – 2 cups.
2.Potato (large) – 1 (peeled and cut into small cubes)
3.Green peas – 1/2 cup (optional)
4.Dry red chilly – 2
5.Bay leaves – 2
6.Panch foran – 1 tsp.
7.Chilly powder – 1/4 tsp.
8.Turmeric powder – 1/4 tsp.
9.Coriander powder – 1/4 tsp.(roasted)
10.Cumin powder – 1/4 tsp.(roasted)
11.Salt to taste.
12.Sugar – 1/2 tsp.
13.Garam masala powder – 1/4 tsp.
14.Oil – 2 tbsp.
Method – Add 1/4 tsp.of cumin and cumin powders in a frying pan.Place the pan on slow heat.Dry roast the powders till light brown.Transfer the roasted powders to a small bowl and cover.Boil cauliflower,potato and peas in 4 cups of water for 3 to 4 minutes and drain  Heat oil in a frying pan,add dry red chilly.stir fry until brown. Reduce the heat, add bay leaves and panch foran. stir fry for 30 seconds. Add cauliflower florets,potato and green peas.Fry for 2 to 3 minutes. Add salt,sugar,turmeric,chilly powder  and 1 cup of water. Keep cooking till all the water evaporates. Add roasted cumin, coriander and garam masala powder. mix well. Remove pan from the heat,keep aside.
Ingredients for the dough –
1.Flour (maida) – 400 grams.
2.Salt – 1 tsp.
3.Veg.oil – 1/2 cup.
Method –  In a bowl add all the ingredients and mix well. Add water little by little and knead into a dough. Cover the dough with a moist cloth, keep aside for 10 minutes. Knead the dough again and divide into balls. Using oil roll each ball in oval shape. Cut each rolled ball into halves (across the width). Take one part, dip your finger in water and wet the straight edge. Fold it into a cone. Stuff the fillings into the cone and seal the open edge (wet the open edge and press). In this way make all the stuffed cones and keep In a tray.
Making Shingara  –
Heat enough oil in a frying pan,when hot reduce the heat. Fry the Shingaras on slow heat until they turn very light brown on both side. Fry 3 to 4 pieces at a time. Take out the fried shingaras with a slotted spoon and keep in paper towels.
Delicious Gobi Samosa is ready, serve with chutney or ketchup.