Hi Friends,
Today I am sharing with you a delicious sweet recipe made with Desiccated Coconut and Almond powder. It is very quick and easy to prepare and with few ingredients. It is a simple sweet, very tasty to eat and perfect for occasions.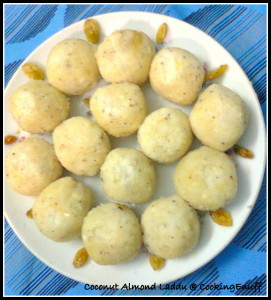 Cooking time – 40 minutes.  Serve – 4.
Ingredients –
1.Almond – 1/2 cup.
2.Desiccated coconut – 1 cup.
3.Sugar – 1 cup.
4.Milk – 1/2 cup.
5.Cardamom powder – 1/2 tsp.
Method –
1.Soak almonds in 2 cups of hot water for 10 minutes. Peel the skin off. Using milk grind the almonds to a paste. Add the almond paste, coconut and sugar in a non stick frying pan. Mix very well. Place the pan in slow heat. Cook for 8 to 10 minutes with stirring continuously.
2.When the mix comes together or leaves the sides of the pan, add cardamom powder and mix well. Remove pan from the heat, transfer the mix to a bowl. Allow it to rest for 4 to 5 minutes. Take a small portion of the mix,make a round ball and put in a greased tray. Repeat the same process with rest of the mix.
Delicious Coconut – Almond Sweet Laddu is ready, garnish with nuts/raisins and serve.