Hi Friends,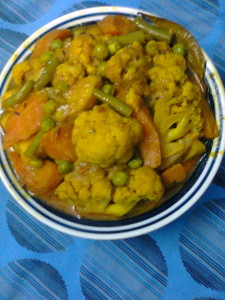 Today I am posting a delicious vegetable korma recipe made with winter vegetables.(Cauliflower, Carrot,French Beans,Green peas and Potato). It is a simple recipe and very quick and easy to prepare. The dish is nutritious and goes well with Rice/Roti or Paratha.
Cooking time – 40 minutes.   Serve – 4
Ingredients –
1.Chopped vegetables – 1 bowl.
2.Green peas – 1/2 cup.
3.Cumin seeds – 1/2 tsp.
4.Fenugreek seeds – 1/2 tsp.
5.Bay leaves – 2.
6.Yogurt (curd) – 2 tbsp.
7.Salt to taste.
8.Sugar – 1/2 tsp.
9.Oil – 2 tbsp.
10.Ghee – 1 tbsp.
11.Garam masala powder – 1 tsp.
12.Slit green chilly – 2.
Ingredients for the Korma Masala –
1.Onion (large) – 1 (chopped)
2.Ginger-garlic paste – 1 tbsp.
3.Tomato – 1 (chopped)
4.Turmeric powder – 1/2 tsp.
5.Cumin powder – 1/2 tsp.
6.Coriander powder – 1 tsp.
7.Red chilly powder – 1/4 tsp.
8.Shredded Coconut – 1/2 cup.
9.Oil – 2 tbsp.
Method –
1.Wash the vegetables and by adding 1 tbsp.of salt boil for 2 minutes and drain. Keep aside.
2.Take a bowl,add ginger-garlic and all the masala powders(chilly,cumin,turmeric,coriander) and 1/2 cup of water. Keep the masala mix aside. Heat 2 tbsp.of oil in a frying pan, add onion and fry till light brown. add tomato and the masala mix.Saute till oil separates. Reduce the heat,add shredded coconut and saute for 1 minute. Remove pan from heat. Grind the sauted masala to a paste.
3.Heat 2 tbsp.of oil and 1 tbsp.of ghee in a frying pan, add cumin seeds.When the cumin looks brown add fenugreek seeds and bay leaves and fry for 30 seconds. Add all the vegetables and salt and fry for 3 to 4 minutes. Add the masala paste, mix well. Saute for 2 minutes.Add sugar and 2 cups of water and cook over medium heat until the vegetables are cooked. Add beaten curd, cook for 2 minutes.Remove pan from the heat,add garam masala powder and slit green chilly. Cover the pan,give 10 minutes standing time.
Tasty and healthy Vegetable Korma is ready, serve hot with Rice/Roti/Paratha.