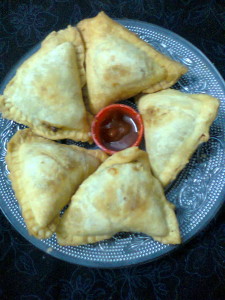 Hi Friends,
Today I am sharing with you a delicious snacks recipe made with flour,semolina and egg. It is a simple snacks recipe,very quick and easy to prepare and with few ingredients. It is very tasty to eat, crunchy and perfect for Parties.
Cooking time – 45 minutes.  Serve – 4.
Ingredients – for the dough
1.Flour – 2 cups.
2.Semolina (suji) – 2 tbsp.(soaked in 1/2 cup of water for 15 minutes)
3.Salt – 1/4 tsp.
4.Vegetable oil – 4 tbsp.
In a bowl add all the ingredients,mix well. Add little water and kneed into a soft but tight dough. Cover the dough with a wet cloth,keep aside until use.
Ingredients – for the fillings.
1.Egg – 2 (beaten)
2.Bread crumbs – 2 tbsp.
3.Onion (large) – 1 (finely chopped)
4.Grated ginger – 1/2 tsp.
5.Green chilly – 2 (finely chopped)
6.Chopped coriander leaves – 4 tbsp.
7.Garam masala powder – 1/4 tsp.
8.Salt to taste.
9.Pepper powder – 1/2 tsp.
Take all the ingredients in a bowl and mix well. Allow it to rest for 10 minutes.
Knead the dough again and divide into small balls.Roll each ball into 4 inch diameter  Take one rolled ball,fill one tsp.of fillings.Dip your finger in water and wet the edges.press the edges together. (I used moulds.) Fill all the rolled balls, keep in a flat tray.
Heat enough oil in a frying pan,when hot reduce the heat.Fry the egg-stuffed rolled balls until they turn golden brown on both sides.Fry 3 to 4 pieces at a time. Take out them with a slotted spoon and keep in paper towels.
Delicious Snacks is ready,serve hot with chutney or ketchup.