Hi Friends,
Today I am sharing with you a delicious kebab recipe made with Bombay Duck (Loitta fish). It is an easy to make recipe and takes few minutes to prepare. It is a great appetizer or can be served as a tea time snacks.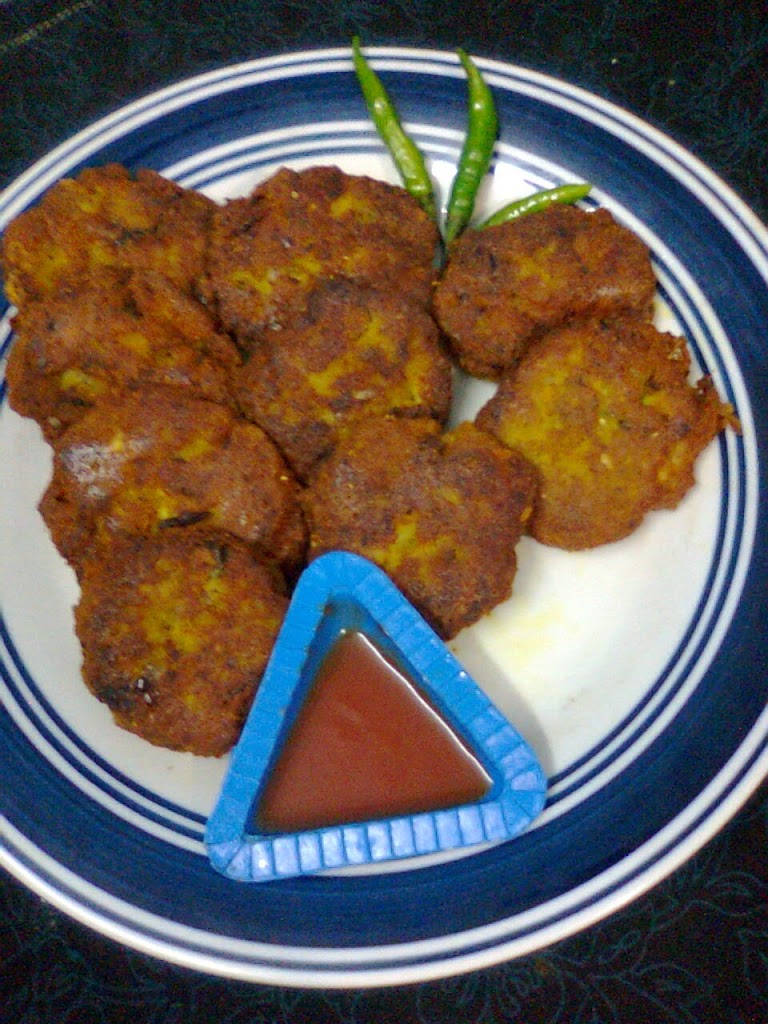 Cooking time – 45 minutes. Serve – 4
Ingredients –
1.Fish – 500 grams.
2.Chana dal – 100 grams.(soaked for 3 to 4 hours)
3.Cumin seeds – 1/2 tsp.
4.Bay leaves – 2
5.Onion (large) – 1 (chopped)
6.Ginger paste – 1/2 tsp.
7.Garlic paste – 1 tsp.
8.Turmeric powder – 1/2 tsp.
9.Cumin powder – 1/2 tsp.
10.Green chilly – 4 (chopped)
11.Pepper powder – 1/2 tsp.
12.Salt to taste.
13.Sugar – a pinch.
14.Chopped coriander leaves – 4 tbsp.
15.Garam masala powder – 1/2 tsp.
16.Oil for deep frying.
Method –
1.Take the fishes,discard heads, cut into pieces. Wash well and keep in a colander.Grind chana dal to a paste (do not add water). Take a small bowl,add ginger,garlic,turmeric,cumin powder and 1/2 cup of water.Keep the maala mix aside.
2.Heat 2 tbsp.of oil in a non stick frying pan,add the fish piece. The fish will release water and disintegrate. Keep cooking till all the water evaporates. Take out the disintegrated fish from the pan.
3.Heat 2 tbsp.oil in the pan,add cumin seeds and bay leaves.When the cumin seeds look brown add the masala mix,saute till oil separates. Add the disintegrated fish,mix well,saute for 1 minute. Remove pan from the heat. Transfer the fish-masala mix to a bowl.To this add onion,salt, sugar, chana dal paste,green chilly,pepper powder,coriander leaves and garam masala powder. Mix well.
4.Heat oil in a frying pan,when hot reduce the heat. Take a small portion of the fish mixture,make a ball and flatten it to give a shape of kebab. Fry it until golden brown on both sides. Increase the heat and take out the fried kebab with a slotted spoon, keep in paper towels. Fry 2 to 3 kebabs at a time.
Delicious Bombay Duck Kebab is ready, serve with Ketchup/Salads.