Hi Friends,
Today I am sharing with you famous Manchurian recipe made with Potato.It is not a traditional Manchurian recipe. I made it in Bengali style. Potato Manchurian is very tasty to eat, quick and easy to prepare. I used small potatoes, you can use large potatoes(cut into cubes).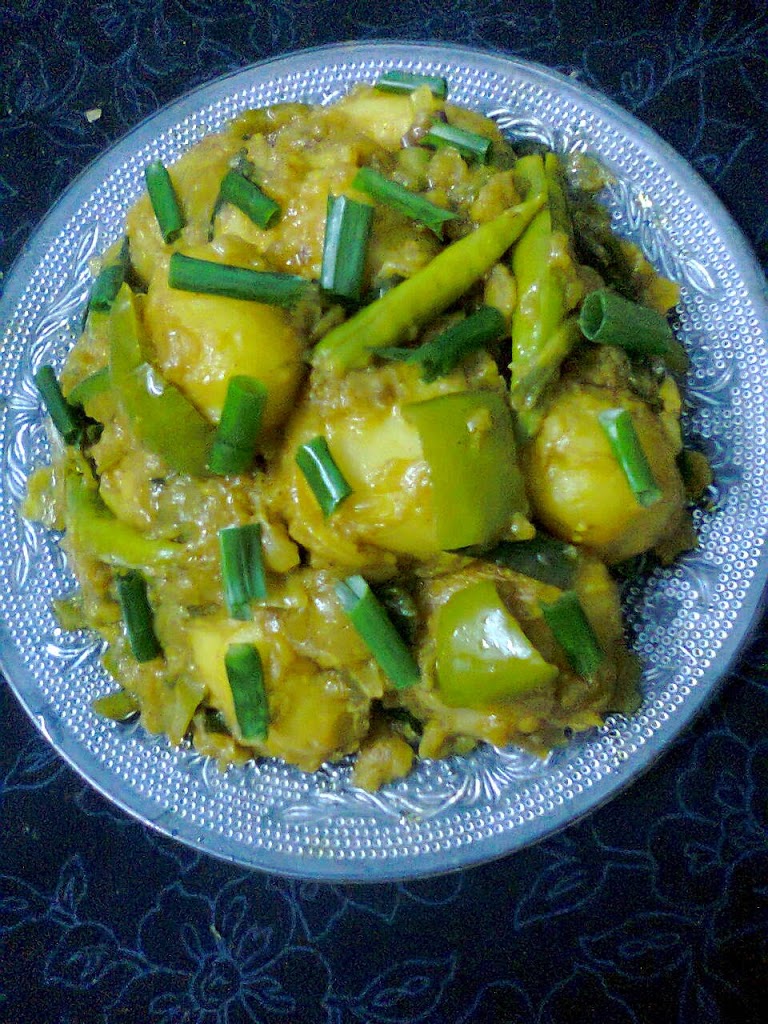 Cooking time – 30 minutes. Serve – 4.
Ingredients –
1.Potato – 400 grams.
2.Onion (large) – 1 (chopped)
3.Grated ginger – 1/2 tsp.
4.Grated/chopped garlic – 1 tsp.
5.Slit green chilly – 6.
6.Capsicum (optional) – 1 (chopped)
7.Chopped onion leaves – 1/2 cup.
8.Soya sauce – 1 tbsp.
9.Tomato sauce/ketchup – 1 tbsp.
10.Salt to taste.
11.Sugar – 1/4 tsp.
12.Turmeric powder – a pinch.
13.Pepper powder – 1/2 tsp.
14.Corn flour – 1 tbsp.
15.Veg.oil – 4 tbsp.
Method –
1.Dissolve corn flour in 1 cup of water,keep aside.Using Pressure Cooker boil the potatoes in water until soft and drain. Prick them with a tooth pick and marinate with 1/2 tsp.of salt.
2.Heat oil in a frying pan, add the boiled potatoes and fry lightly (for 2 minutes). Take out from the oil,keep aside. Add onion in the remaining oil, fry for 1 minute. Add ginger,garlic,turmeric and saute for 2 minutes. Add soya sauce,tomato sauce,potatoes,salt,sugar,capsicum and 1 to11/2 cups of water. Cook till all the water evaporates (stir occasionally). Add onion leaves, slit green chilly,pepper powder and mix well. Add corn flour batter, mix well. cook for 2 to 3 minutes with stirring continuously. Delicious Potato Manchurian is ready. Garnish with chopped onion leaves, slit green chilly and serve as a side dish.