Hi Friends,
Today I am sharing with you an easy party recipe made with Baby Corn. It is Manchurian Baby Corn. It is a simple recipe but very tasty to eat. It is a Chinese recipe made in Bengali style and very quick and easy to prepare.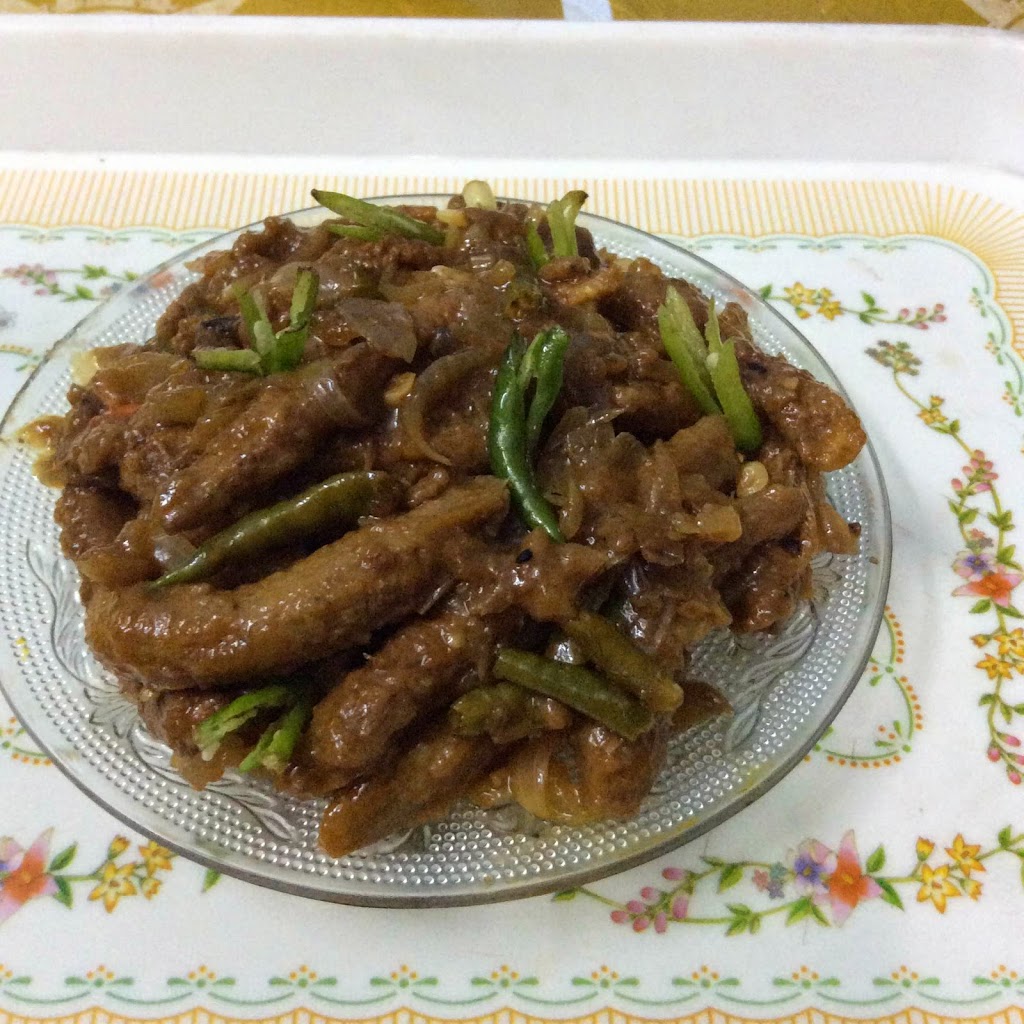 Cooking time – 30 minutes.  Serve – 4
Ingredients-   Baby Corn – 12 (cut into halves lengthwise)    And Oil- for deep frying.
[For the batter]
1.Flour – 3 tbsp.
2.Corn flour – 3 tbp.
3.Egg – 1 (beaten)
4.Ginger paste – 1/2 tsp.
5.Garlic pate – 1/2 tsp.
6.Chilly paste – 1/2 tsp.
7.Soya sauce – 1 tbp.
8.Salt to taste.
In a large bowl mix all the ingredients and make a thick batter. Add little water if needed. To this add the baby corn and mix well. Keep it rest for 10 minutes. Heat oil in a frying pan.When hot reduce the heat. Group baby corn into 4 batches. Fry each batch till golden brown on both sides. Take out the fried corns from the oil, keep aside,
Ingredients[ for the sauce]-
1.Onion –1 (chopped)
2.Garlic 1 tsp.(chopped)
3.Garlic – 1 tsp.(grated)
4.Green chilly – 4(chopped)
5.Soya sauce – 1 tbsp.
6.Tomato ketchup. – 1 tsp.
7.Sault to taste.
8.Sugar – a pinch.
9.Corn flour – 11/2 tbs.
10.Oil – 2 tbsp.
11.Slit green chilly – 6.
Mix corn flour in 1/2 cup of water,keep aside.
Heat 2 tbsp.of oil in a non stick frying pan. Add onion,ginger and garlic. Stir fry for 2 minutes. Add soya sauce, tomato ketchup,sugar and sault. Saute for 2 minutes. Add the corn flour batter, cook for 2 minutes.Add the fried corn and cook for 2 minutes with stirring continuously.
Add slit green chilly,cover and give 10 minutes standing time. Delicious Manchurian Baby Corn is ready to serve.