Hi Friends,
Today I am sharing with you a famous dish in South Indian cuisine. It is Sambar Dal. Traditionally yellow lentils (Arhar Dal) are cooked with vegetables. To this recipe I have used red lentils (Masoor Dal). It is an easy to make recipe, very tasty to eat and take few minutes to prepare.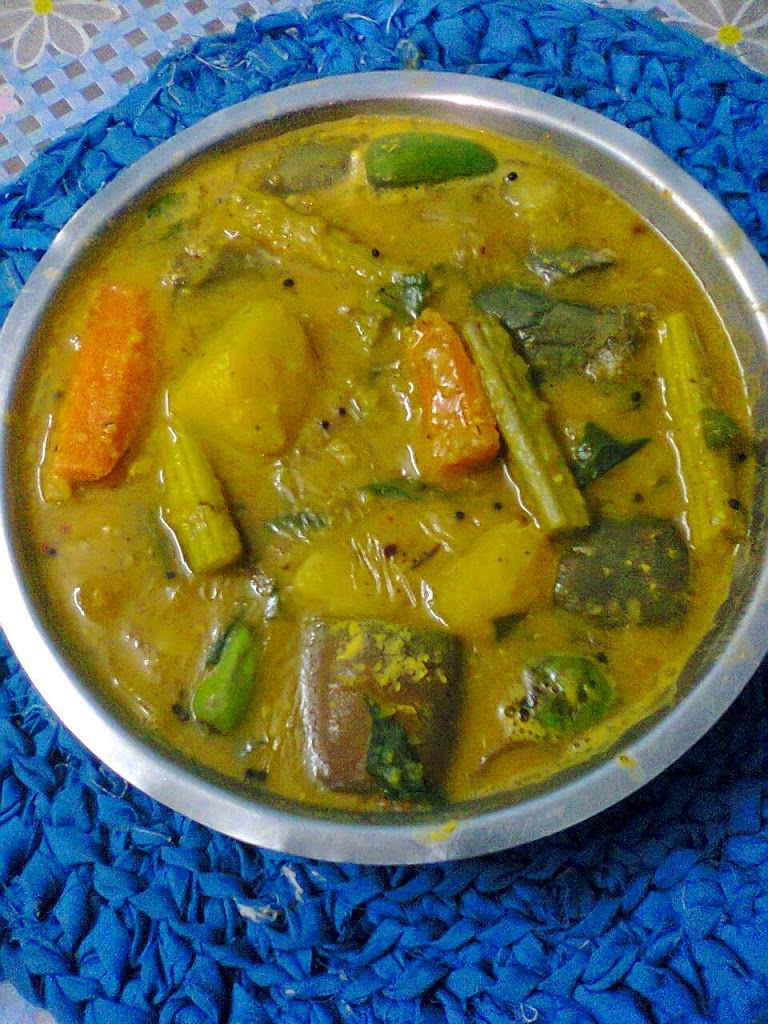 Cooking time  – 35 minutes  Serve – 4
Ingredients –
1.Red lentils – 250 grams.
2.Chopped vegetables – 1 bowl. [ Potato,Ladies finger,Drumstick,Eggplant,Pumpkin,Carrot ] Or you can use any vegetables.
3.Tomato – 1 (chopped)
4.Onion – 1 (chopped)
5.Dry red chilly – 2
6.Mustard seeds – 1 tsp.
7.Cumin seeds – 1/2 tsp.
8.Asafoetida (hing) – a pinch.
9.Curry leaves – 10 pieces.
10.Turmeric powder – 1/2 tsp.
11.Salt to taste.
12.Sugar – 1/4 tsp.
13.Sambar masala – 2 tsp.
14.Tamarind – 25 grams.(Soaked in 1/2 cup hot water and pulp extracted)
15.Oil – 2 tbsp.
16.Slit green chilly – 4
Method –
1.Wash the dal and drain. Put the dal in a pan. To this add 3 cups of water,1 tbsp.of salt and turmeric powder. Boil the dal till turns soft. Mash the dal. Now add all the chopped vegetables, tomato and onion. Boil till the vegetables are soft. Add water if needed. At this stage you can use pressure cooker also. Remove the dal from the heat, transfer it to a bowl. Clean the pan.
2.Heat 2 tbsp.of oil in the pan, add dry red chilly. Fry till brown. Add cumin seeds. When the cumin looks brown add mustard seeds. When crackling add curry leaves and asafoetida, fry for 30 seconds.Add the veg dal, sugar,sambar masala,1 tbsp.of tamarind pulp and 1 to 11/2 cups of water. Mix well. Boil for 3 to 4 minutes (stirring occasionally). Add slit green chilly and remove pan from the heat. Cover and give 5 to 6 minutes standing time.
Delicious Sambar Dal is ready.Serve with Rice/Dosa/Idli.