Hello Friends,
Today I am going to make a delicious veg curry dish made with vegetables and Lentils Cake –
Chapor Ghonto.
This is a traditional Bengali recipe, non-spicy and very easy to prepare.You can use whatever vegetable you have at home.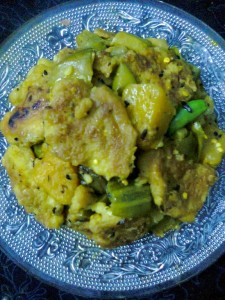 Cooking Time
: 40 minutes
Serves
: 4
For the Lentils Cake:
Ingredients
Split pea lentils(Motor Dal) :100 gms (Soaked overnight in water)
Green Chilly : 2 (chopped)
Salt: 1/4 tspoon
Turmeric Powder: 1 pinch
Oil: 4 tbspoon
Method:
Strain the lentils.Grind the lentils with green chilly to a paste.Transfer to a bowl.To this add salt and turmeric powder and mix well.
Heat 2 tbspoon oil in a non-stick frying pan.Spread the oil over the pan.Take a small portion of the mixture, flatten to make a thin cake and shallow fry in low heat.make sure to fry both sides properly until it turns golden brown.
Follow the same process for the rest of the mixture.Transfer the cakes (called Chapor) in a plate and keep aside.
For the Curry:
Ingredients
Potato : 1 (peeled and cut into small cubes)
Egg Plant: 250 gms (cut into cubes)
Ridge Gourd: 500 gms (peeled and cut into small pieces)
Pumpkin: 250 gms (peeled and cut into cubes)
Pointed Gourd: 200 gms (peeled and cut into pieces)
Dry red chilly: 2
Bay Leaves: 2
Ginger Paste: 1/2 tspoon
Panch Foron: 1/2 tspoon
Turmeric Powder:1/2 tspoon
Slit Green Chilly: 2
Salt (To taste)
Sugar (To Taste)
Oil : 2 tbspoon
Method
Wash the vegetables and keep in a colander.Heat oil in a frying pan, add dry red chilly.Stir fry until brown.Reduce the heat,add Panch foron and Bay leaves.Stir fry until the spices gives out their aromas(approx 30 secs).
Add all the vegetables, salt, turmeric powder and ginger paste and mix well. Saute on medium heat for 5-6 minutes.Add 2 cups of water,sugar and green chilly.Cook over medium heat until the vegetables are properly cooked.
When the gravy starts thickening, add the lentils cake.Cook slowly until the gravy dries up.
Remove pan from heat and cover the pan and give 10 minutes standing time. Serve it with rice/roti.