Hi friends,
Today I am sharing with you an easy to make side dish recipe made with Yard Long Beans. In Bengal it is called Barbati Bhaja. It is a traditional Bengali dish and very tasty to eat. It goes well with Roti and as a side dish with Rice.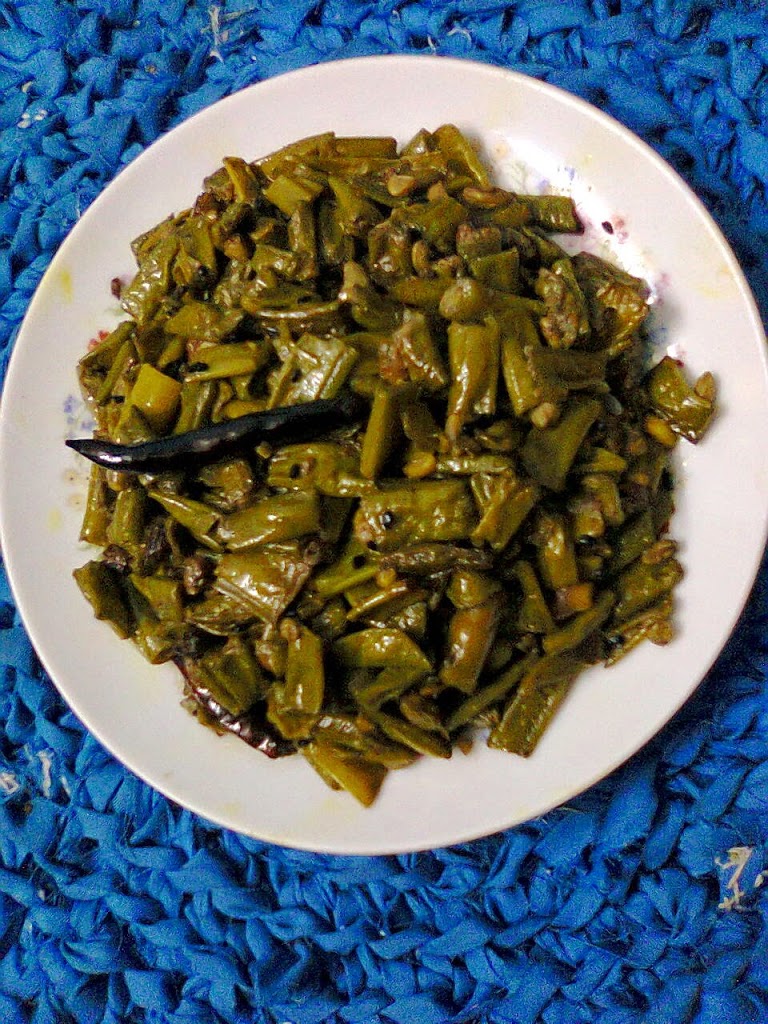 Cooking time – 20 minutes. Serve – 4
Ingredients –
1.Yard long beans – 350 grams.
2.Onion – 1 (chopped)
3.Dry red chilly – 2 (broken)
4.Cumin seeds – 1/2 tsp.
5.Tomato – 1 (chopped)
6.Garlic paste – 1/4 tsp.
7.Turmeric powder – 1/4 tsp.
8.Salt to taste.
9.Sugar – a pinch.
10.Oil – 2 tbsp.
Method –
1.Cut the top and bottom of the beans. Cut them into long pieces, wash and keep in a colander.
2.Heat oil in a frying pan, when hot reduce the heat. Add dry red chilly, fry until brown. Add cumin seeds. When the cumin looks brown, add onion and fry till onion looks transparent. Add the beans, salt, turmeric, garlic and tomato. Saute for 3 to 4 minutes on slow heat. Add 1 cup of water and sugar, keep cooking till all the water evaporates.
Yard Long Beans is ready to serve, It can be prepared very quickly and very easy to prepare.