Hi friends,
Today we are going to make a very interesting bhaja (fry) recipe made with bottle gourd skin. It is a common recipe of bottle gourd skin and very tasty to eat. So don't throw away the bottle gourd skin, make it into a delicious dish.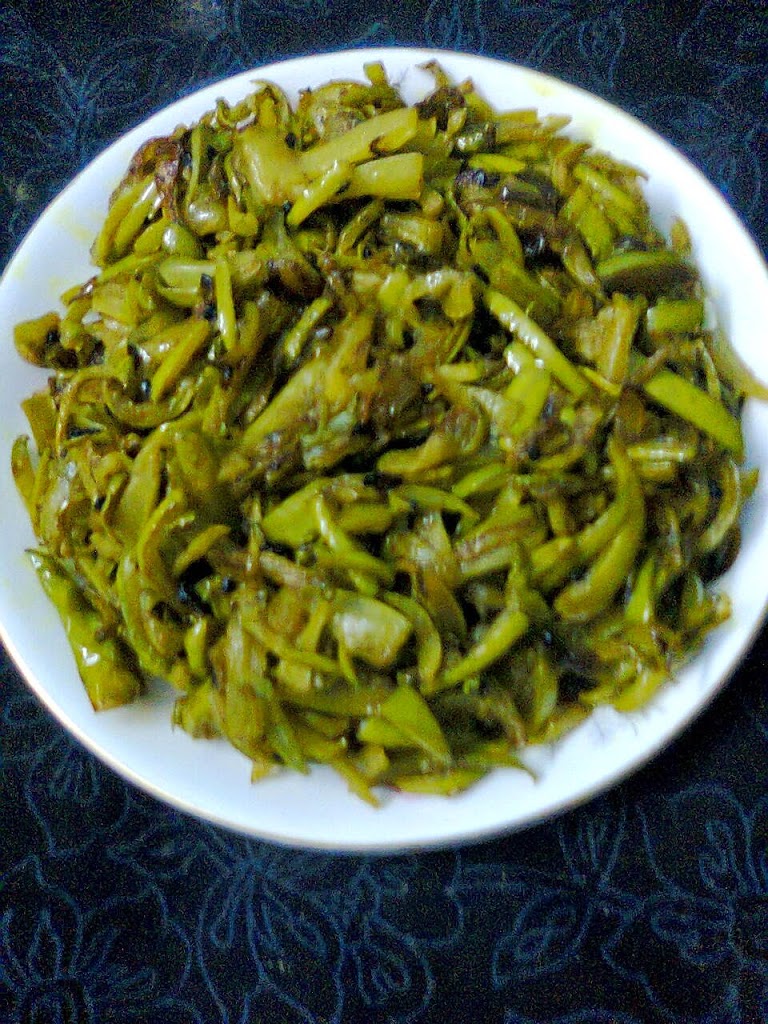 Cooking time – 30 minutes Serve – 4.
Ingredients –
1.Bottle gourd skin – from one large bottle gourd.
2.Onion – 100 grams.(chopped)
3.Whole dry red chilly – 2
4.Kalonji (nigella seeds) – 1/2 tsp.
5.Green chilly – 1 (chopped)
6.Turmeric powder – 1/4 tsp.
7.Sugar – 1/4 tsp.
8.Salt to taste.
9.Oil – 2 to 3 tbsp.
Method –
1.Chop the bottle gourd skin (Julienne). Add the skin to a pot of boiling water, cook until just tender. Using a colander drain the water well. Keep the gourd skin aside.
2.Heat oil in a frying pan,when hot reduce the heat. Fry the dry red chilly until brown, remove from oil and keep aside. Add kalonji in the remaining oil, stir fry for few seconds. Add onion, saute till onion looks translucent. Add boiled gourd skin, turmeric,sugar and salt. Fry on slow flame for 7 to 8 minutes (stir occasionally).
Remove pan from heat, add green chilly and mix well. Cover the pan, give 10 minutes standing time. Lau khosha Bhaja (Bottle gourd skin fry) is ready to serve. Garnish with fried whole red chilly and serve with Rice or Roti.