Hi friends,
Today we are going to make a delicious snacks item made with soya chunks. It is a home made snacks dish, very tasty to eat and quick and easy to prepare.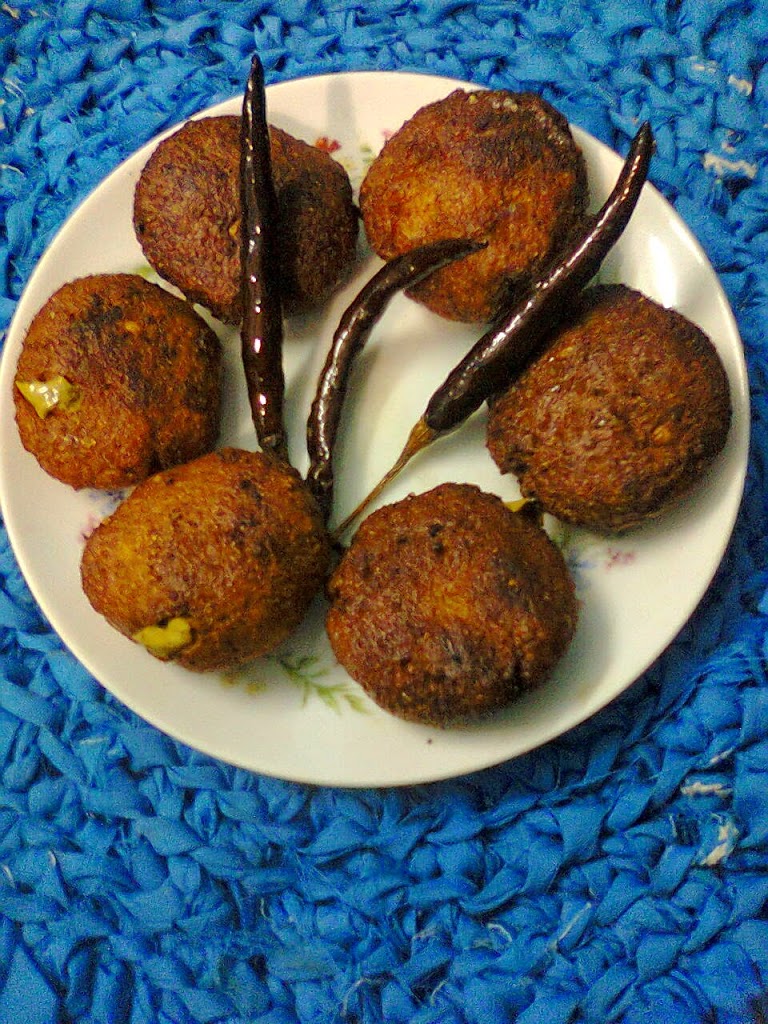 Cooking time – 40 minutes Serve – 4
Ingredients –
1.Soya chunks – 100 grams.
2.Potato (large) – 1
3.Onion – 1 (finely chopped)
4.Ginger paste – 1/2 tsp.
5.Garlic paste – 1/2 tsp.
6.Turmeric powder – 1/4 tsp.
7.Green chilly – 2 (chopped)
8.Egg – 1 (beaten)
9.Chopped coriander leaves – 2 tbsp.
10.Salt to taste.
11.Sugar – 1/4 tsp.
12.Garam masala powder – 1/2 tsp.
13.Lemon juice – 2 tsp.
14.Roasted pea nuts – 2 tbsp.
15.Oil
Method –
1.Boil the soya chunks with 1 tsp.of salt for 5 minutes,drain and squeeze to remove extra water. Again wash the chunks in normal water and squeeze well. Mash it lightly.
2.Boil the potato, peel and mash it well. Heat 2 tsp.of oil in a frying pan, add ginger, garlic and 1/4 cup of water. Saute for 2 minutes. Add the mashed soya, saute for 2 minutes. Add the mashed potato,mix well and remove pan from the heat. Let it cool and transfer to a bowl. To this add onion, green chilly,salt,sugar,coriander,garam masala,lemon juice,pea nuts and egg. Mix it very well.
3.Heat enough oil in a frying pan, When hot reduce the heat. Make little balls of the Soya mixture and drop into the hot oil. Fry the balls on slow flame till they turn crispy and golden brown. Fry 3 to 4 balls at a time. Increase the heat and remove the fried balls with a slotted spoon and keep in paper towels.
Serve the tasty fritters as a tea time snacks.