Hi friends,
Today I am sharing with you a delicious snack recipe. It is Salty Gujia. Traditionally in India the fillings for gujia is a mixture of khoya, raisins and nuts. Today I am sharing a wonderful gujia recipe where Chicken keema and Indian masalas are used in place of sweet ingredients. Salty gujia is very tasty, crunchy and very easy to prepare.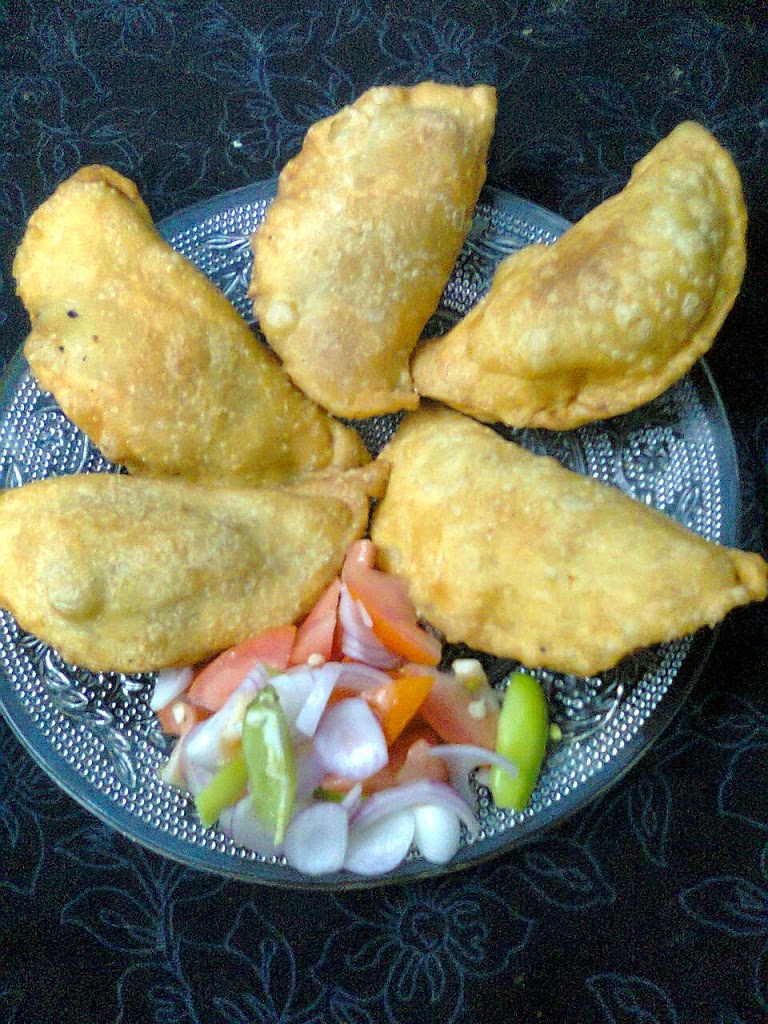 Cooking time – 1 hour. Serve – 4.
Ingredients – For the cover
1.Flour (maida) – 250 grams.
2.Semolina (sujii) – 2 tbsp.
3.Salt – 1/4 tsp.
4.Oil – 2 tbsp.
Method
1.Soak semolina in 1/4 cup of water for 10 minutes. In a large bowl combine all the ingredients and semolina. Add little water. Knead the flour into a smooth but tight dough. Cover the dough with a wet cloth and keep aside until use.
Ingredients – For the fillings.
1.Chicken keema – 200 grams.
2.Onion (large) – 1 (chopped)
3.Ginger paste – 1/2 tsp.
4.Garlic paste – 1/2 tsp.
5.Turmeric powder – 1/4 tsp.
6.Chilly powder – 1/4 tsp.
7.Pepper powder – 1 tsp.
8.Garam masala powder – 1/2 tsp.
9.Salt to taste.
10 Sugar – a pinch.
11.Oil – 2 tbsp.
12.Lime juice – 1 tsp.
Method – Heat oil in a frying pan, add onions. Stir fry till onions are transparent. Add the keema, ginger-garlic paste, turmeric-chilly powder and 1/2 cup of water. Saute till oil separates. Add 1/2 cup of water,salt and sugar. Keep cooking till all the water evaporates. Add pepper and garam masala, mix well. Remove pan from the head, let it cool. Then add lime juice, mix well and keep aside.
Making Gujia –
1.Knead the dough again and divide into small balls. Roll each ball into 4 to 41/2 inch diameter. Take one rolled ball, dip your finger in water and wet the edges. Fill half the round with 1 tsp.of fillings and fold it into a semi circle. Press the edges together gently. Make all the Gujias and place in a dish.
2.Heat enough oil in a frying pan.When hot reduce the heat. Fry the gujias on slow heat until they turn light brown on both sides. Increase the heat and take out the fried gujias from the oil with a slotted spoon and keep in paper towels. Fry two gujias at a time.
The delicious Salty Gujia is ready, serve as a tea time snacks.