Hi friends,
Today I am sharing with you a delicious side dish recipe made with boiled egg. It is Egg Bharta. It is a simple side dish recipe but very tasty to eat and take few minutes to prepare.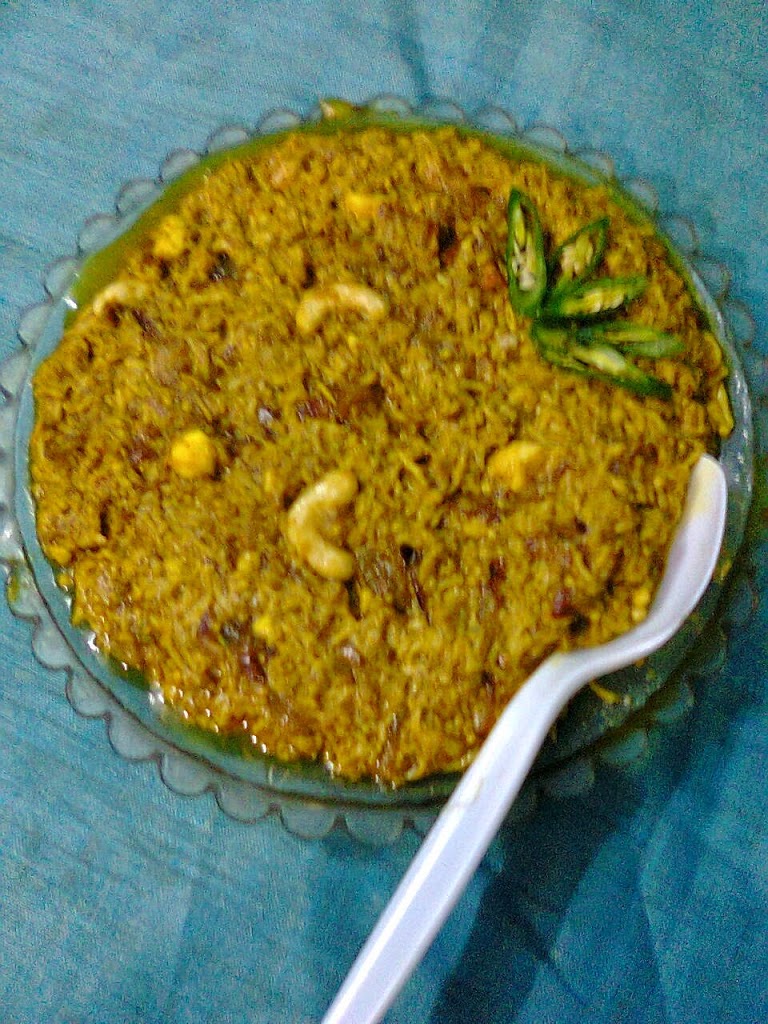 Cooking time – 30 minutes.   Serve – 4
Ingredients –
1.Egg – 4 (hard boiled)
2.Cumin seeds – 1/4 tsp.
3.Tomato – 1 (copped)
4.Onion – 1 (chopped)
5.Garlic paste – 1/2 tsp.
6.Ginger paste – 1/2 tsp.
7.Turmeric powder – 1/2 tsp.
8.Chilly powder – 1/2 tsp.
9.Cumin powder – 1/4 tsp.
10.Oil 2 tbsp.
11.Ghee – 1/2 tsp.
12.Garam masala powder – 1/2 tsp.
13.Salt to taste.
14.Sugar – a pinch.
15.Green chilly (slit) – 2
16.Cashew nuts and Raisins – for garnishing.
Method –
1.Boil the eggs with 1 tbsp.of salt in 3 to 4 cups of water for 7 to 8 minutes. Peel the skin off. Using a grater grate the eggs, keep aside.
2.Heat oil in a frying pan, add cumin seeds. When the cumin looks brown add onion, fry till brown. Add tomato, saute for 1 minute. Add ginger-garlic paste, chilly- cumin-turmeric powder and 1/2 cup of water. Saute on slow heat till oil separates. Add the grated eggs, garam masala powder, sugar, little salt and 1/2 cup of water. Mix well. Cook on medium heat till all the water evaporates (stir occasionally). Remove pan from the heat, add green chilly and  ghee, cover the pan and give 5 to 6 minutes standing time. Garnish with cashew nuts and raisins and serve with Roti/Paratha/Naan.