Hi friends,
Today I am sharing with you a delicious recipe made with Kabuli Chola (White Chickpeas) and Flours. It is Chana Bhatura. It is one of the famous dish in Punjab and very popular throughout India. It is a spicy dish,rich in flavor and can be made in various style.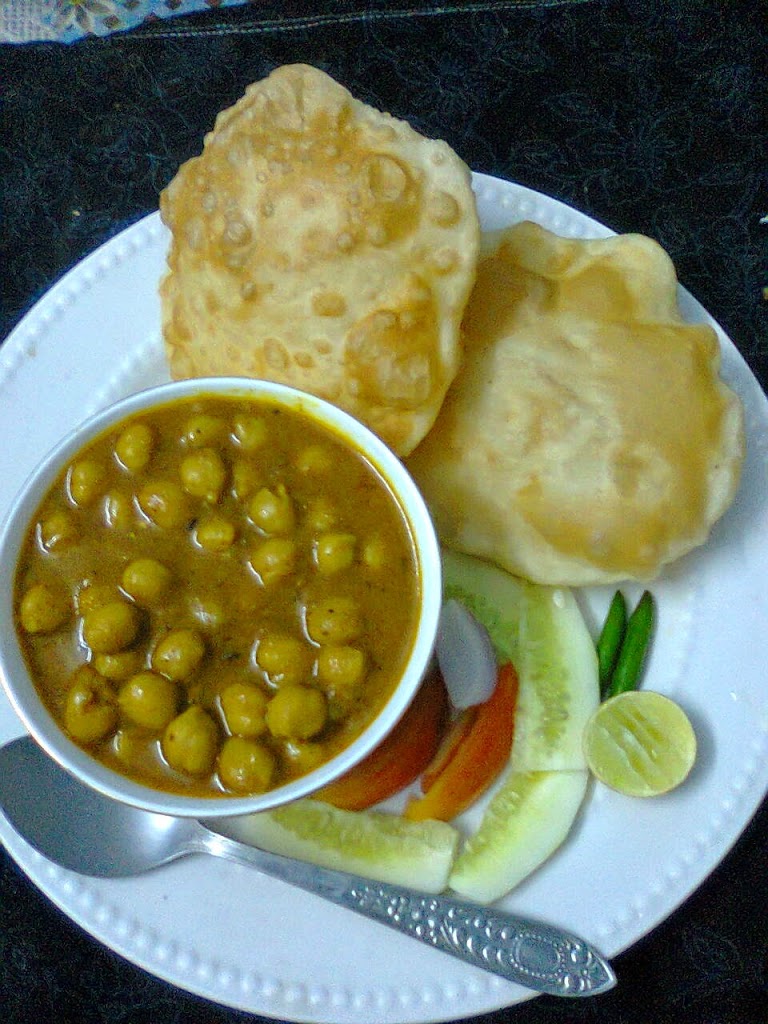 Cooking time – 1 hour. Serve – 6
Ingredients –
1.White chickpeas – 250 grams (soaked overnight in water)
2.Tea bag –1 Or Tea leaves – 1 tsp. (tied in a cloth)
3.Cumin seeds – 1/2 tsp.
4.Onion – 200 grams (chopped)
5.Ginger paste – 1/2 tsp.
6.Garlic paste – 1/2 tsp.
7.Tomato – 1 (chopped)
8.Chilly powder – 1/2 tsp.
9.Cumin powder – 1/2 tsp.
10.Turmeric powder – 1/2 tsp.
11.Salt to taste
12.Sugar – 1/4 tsp.
13.Oil – 4 tbsp.
14.Ghee – 1 tbsp.
15.Roasted masala powder – 1 tbsp.
Masalas for roasting –
Dry red chilly – 2. Cumin seeds – 1/2 tsp, Coriander seeds – 1/2 tsp. Bay leaf – 1. Pepper – 6. Fenugreek seeds – 1/4 tsp. Grated Nutmeg – a pinch. Cinnamon – 1/2 inch. Cardamom – 2. Clove – 2
Method – In a frying pan roast all the masalas on slow heat until light brown with stirring continuously. Take out the masalas from the pan, let them cool. Grind the masalas to a powder and sieve. Cover and keep aside.
Method – [For the Chana gravy]
1.Wash the chana and put in a pressure cooker. To this add 3 to 4 cups of water, 1 tbsp.of salt and the tea bag. Pressure cook until the chanas are well cooked (tender). Drain off cooking liquid and reserve the liquid. Discard the tea bag.
2. Heat oil in a frying pan, when hot reduce the heat.Add cumin seeds, when the cumin looks brown add onion. Fry till light brown. Add tomato, saute for 1 minute. Add ginger-garlic paste, turmeric, chilly,cumin and 1/2 cup of water. Saute till oil separates. Add the boiled chana, sugar and 1/2 cup of cooking liquid, saute for 5 minutes. Add all the cooking liquid (if needed add water) and little salt, let it bring to boil. When the gravy starts thickening add ghee and roasted masala powder, cook for 1 minute. If you like thin gravy add little hot water and cook for 1 to 2 minutes.
Remove pan from the heat, cover and give 10 minutes standing time. Chana Gravy is ready.
Ingredients – [ For the Bhature ]
1.Flour (Maida) – 400 grams.
2.Semolina (Suji) – 4 tbsp.
3.Curd – 2 tbsp.
4.Salt to taste.
5.Sugar – a pinch.
6.Baking powder – 1/4 tsp.
7.Oil/ghee – 2 tbsp.
Method –
1.Combine all the ingredients in a large bowl. Add water little by little kneading the flour till a smooth dough is obtained. Cover the dough with a wet cloth, keep it aside until use.
2.Knead the dough again and divide into balls (lemon size). Using oil roll the balls into 4 to 5 inch diameter circles.
3.Heat enough oil in a frying pan. Reduce the heat. Take one flour circle and slow slide from the side of the pan into the hot oil. Press gently, once it puffs up flip the other side. When it is light brown in color on both sides, take out from the oil and keep in paper towels. Bhature is ready. Make all Bhatures in this way.
The delicious Chana Bhature is ready. Serve with Salads, Green Chilly and Lemon Wedges.