Hi friends,
Today we are going to make a delicious curry made with Malabar spinach (pui shak). It is a traditional Bengali dish,non-spicy and very simple to prepare. In this curry you can use any vegetables you have in hand.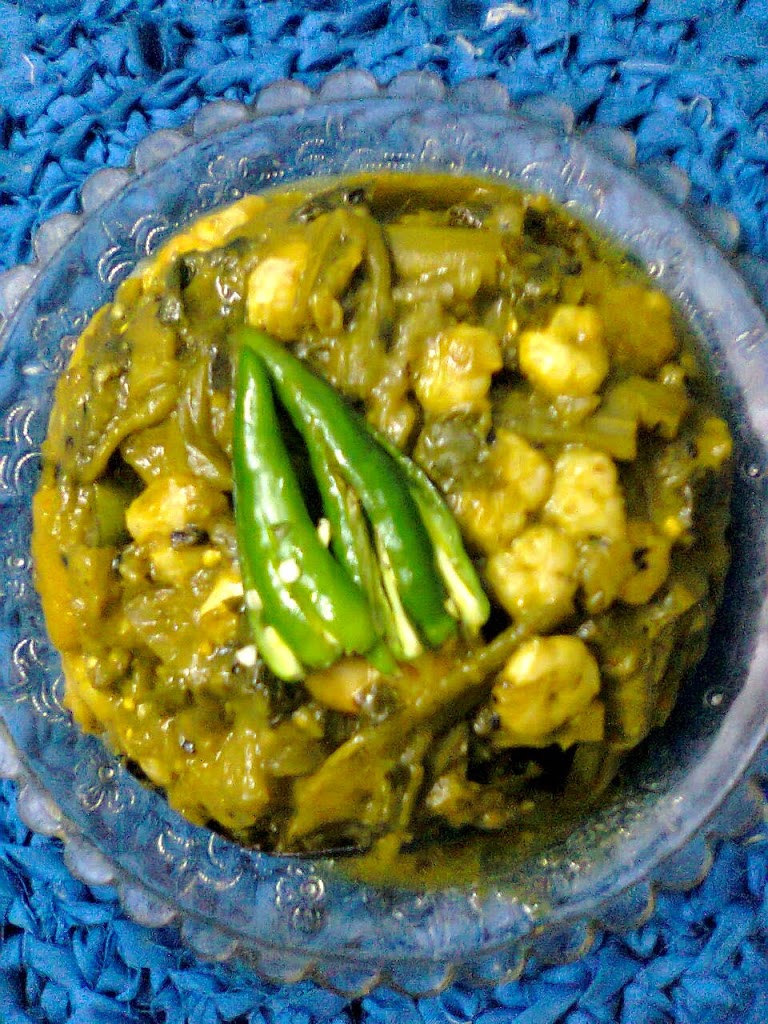 Cooking time – 40 minutes.  Serve – 4
Ingredients –
1.Malabar spinach – 500 grams.
2.Pumpkin – 250 grams( peeled and cut into cubes)
3.Potato – 200 grams.(peeled and cut into cubes)
4.Eggplant (begun) – 250 grams.(cut into cubes)
5.Ridge gourd – 500 grams.(peeled and  cut into cubes)
6.Onion – 100 grams (chopped)
7.Tomato – 100 grams (chopped)
8.Dry red chilly – 2
9.Bay leaves – 2
10.Ginger paste – 1/2 tsp.
11.Turmeric powder – 1/2 tsp.
12.Slit green chilly – 4
13.Salt to taste
14.Sugar – 1/4 tsp.
15.Oil – 4 tbsp.
16.Shrimp – 250 grams (cleaned and washed)
17.Wheat flour – 2 tbsp.
18.Panch foran – 1/2 tsp. [ See Drumstick curry on 14/4/2014 )
Method
1.Take the leaves of the pui shak and chop them. Then cut the stem (1 inch long pieces) and slit in between. Wash the vegetables and pui shak and keep in a colander. Marinate the shrimp with a pinch of salt and turmeric powder.
2.Heat oil in a frying pan and fry the shrimp for 2 minutes. Remove from the oil,keep aside. Add dry red chilly in the remaining oil, stir fry until brown.Reduce the heat,add panch foran and bay leaves. Stir fry until the spices give out their aromas. Add onions,fry till onions are transparent. Add all the vegetables,pui shak,salt,tomato,turmeric and ginger paste and mix well. Saute on medium heat for 4 to 5 minutes.
3.Add 11/2 to 2 cups of water,sugar.green chilly and fried shrimp.Cook over medium heat until the vegetables are cooked. If needed add little water and cook for few minutes.Add wheat flour and mix well. Keep cooking till all the water evaporates (stirring constantly)
Remove pan from heat,cover and give 10 minutes standing time. Serve the delicious Malabar Spinach curry with steamed rice.