Hi friends,
Today I am sharing a delicious sweet pickle recipe made with Indian Palms (topa kool). It is very common recipe of sweet pickle. The process of making this sweet pickle is very simple. It is very popular all over Bengal and generally made in winter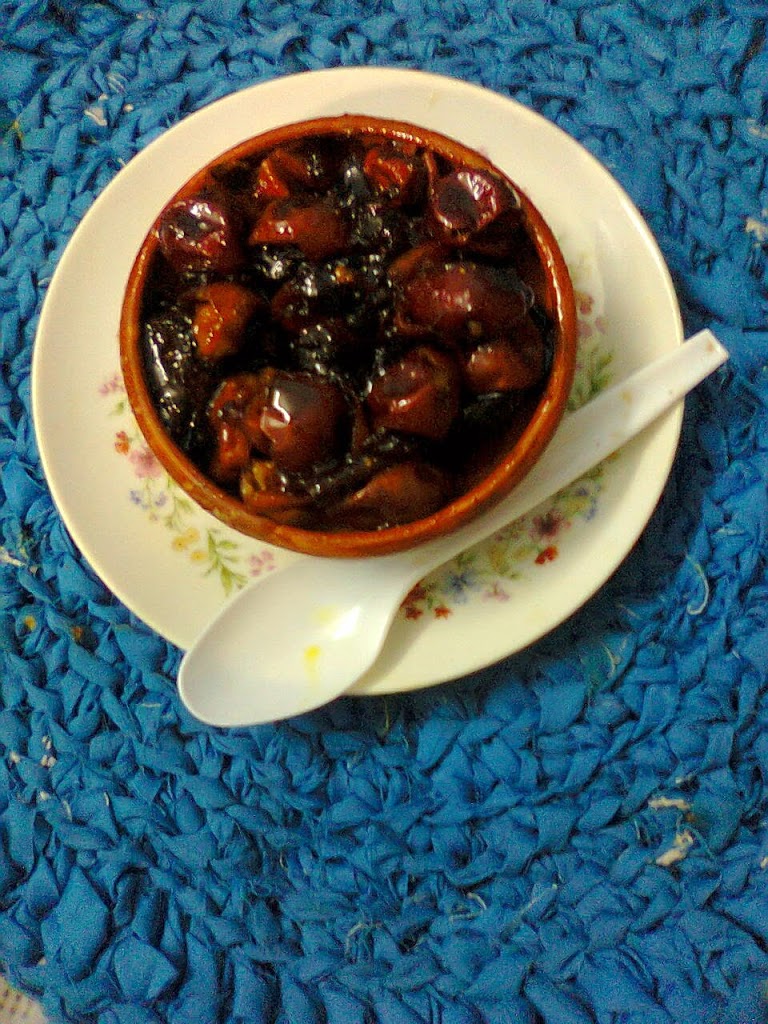 .
Cooking time – 30 minutes Serve – 8.
Ingredients –
1.Kool (ripe) – 250 grams
2.Jaggery – 250 grams.(grated)
3.Salt – 1 tbsp.
4.Turmeric powder – 1 tsp.
5.Chilly powder – 1 tsp.
6.Oil (mustard) – 4 tbsp.
7.Coriander seeds – 1 tbsp.
8.Panch phoran – 1 tbsp.
Method –
[Panch phoran – Cumin seeds, Nigella seeds, Fennel seeds, Fenugreek seeds, Radhuni / or mustard seeds.]
Roasted Masala – Place coriander seeds and panch phoran in a frying pan on slow heat.Stir continuously and lightly roast the spices until they give out their aromas. Cool the spice mixture and using a mixture grinder grind them coarsely. Transfer the roasted masala to a bowl and cover.
1.Wash the palms and remove the stems. Take every palm and crack it. Marinate the palms with salt, turmeric and oil and dry in direct sunlight for 10 to 12 hours. After sun drying put the palms in a frying pan. To this add jaggery, chilly powder and 1 cup of water. Cook on medium flame with stirring continuously till jaggery thickens (there is no liquid left).
2.Remove pan from heat, add 11/2 to 2 tbsp.of roasted masala, mix well. Cover the pan and let it rest for 24 hours.
Kooler Achar is ready. Store in a clean jar.