Hi friends,
Today we are going to make a nutritious dal recipe made with bottle gourd and bitter gourd. In Bengal it is called Titor Dal.It is a common Bengali recipe, very tasty, easy to prepare and perfect for summer.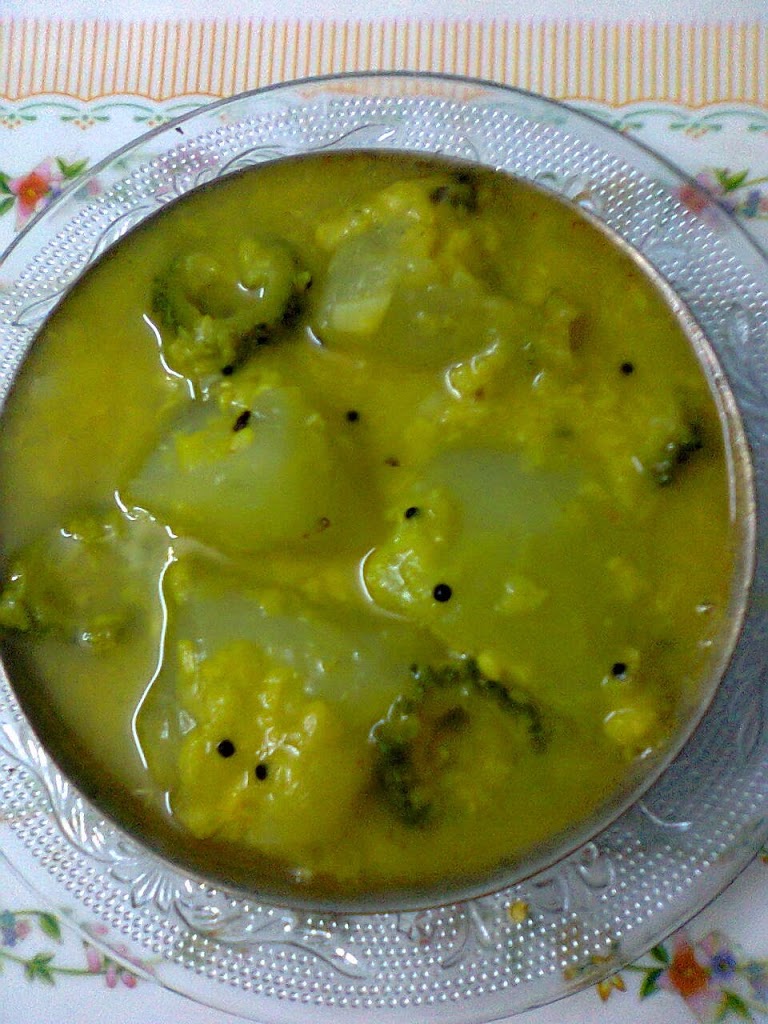 Cooking time – 45 minutes  Serve – 4
Ingredients –
1.Moong dal – 1 cup (cleaned & washed)
2.Bottle gourd – 500 grams (peeled & cubed)
3.Bitter gourd – 2 (cut into thin rings)
4.Turmeric powder – 1/4 tsp.
5.Ginger paste – 1 tsp
6.Mustard seeds – 1/2 tsp.
7.Fenugreek seeds – 1/4 tsp.
8.Bay leaves – 2
9.Salt to taste.
10.Sugar – 1/4 tsp.
11.Oil – 2 tbsp.
12.Ghee – 1 tsp.
Method –
1.In a pan add dal, turmeric, 1 tbsp. of salt and 4 cups of water. Boil it until half done. Add bottle gourd, cook till gourd cubes become tender.If needed add warm water. Transfer it to a bowl. Clean out the pan.
2.Heat oil in the same pan, add bitter gourd and fry until light brown. Transfer the fried gourd to a bowl. Add mustard seeds in the remaining oil, when it splutters add bay leaves and fenugreek seeds,stir fry for 30 seconds. Add ginger paste, saute for 30 seconds. Add the dal and fried bitter gourd, stir. Add sugar,cook for 5 to 6 minutes (stir occasionally). Check the seasoning. To make the dal more soupy add little warm water. For making this dal you can use pressure cooker also.
Remove pan from heat, add ghee, mix well. Cover the pan, give 10 minutes standing time and serve as a first item for lunch.