Hi friends,
Today we are making a simple but tasty snack – Aloor Chop. It is a popular street food in Bengal. It is very easy to make at home.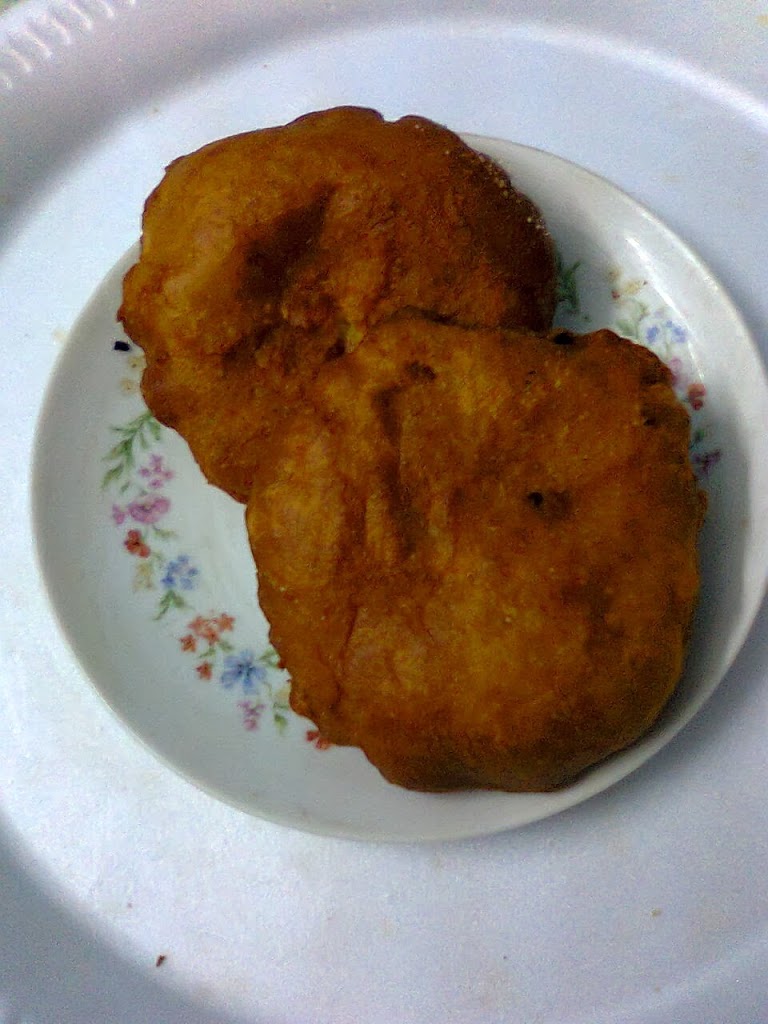 Cooking time – 45 minutes. Serve – 4.
Ingredients –
1.Potato (large) – 2.
2.Ginger paste – 1/2 tsp.
3.Garlic paste – 1/2 tsp.
4.Garam masala powder – 1/2 tsp.
5.Roasted cumin seeds powder – 1/2 tsp.
6.Green chilly – 2 (finely chopped).
7.Sugar – 1/4 tsp.
8.Salt to taste.
For the batter – 1.Besan (gram flour) – 2 cups.
2.Kalonji (nigella seeds)- 1/2tsp.
3.Turmeric powder – 1/4 tsp.
4.Red chilly powder – 1/2 tsp.
5.Sugar – 1/4 tsp. & Salt to taste.
6.A pinch of baking soda.
And vegetable Oil – 250 grams.
For serving – 1 tsp.of rock salt & pepper powder.
Method – 1.Boil the potatoes and peel them. Mash the potatoes using a grater.
2.Heat 2 tbsp.of oil in a frying pan. Add green chilly, ginger-garlic paste,sugar and salt. Saute for 2 minutes. Add mashed potato, garam masala and roasted cumin powder. (See ''Jeera Paratha" for roasted cumin seeds powder) Mix all the ingredients well and saute for 2-3 minutes on slow flame. Remove pan from heat. Transfer the potato mixture to a bowl and let the mixture cool.
3.Grease your palms and divide the potato mixture into balls (lemon size) and flatten. Place them in a flat dish. To prepare batter,take gram flour in a large bowl. Add kalonji,chilly powder,turmeric powder,sugar,salt,and 2 tbsp. of oil. Add cold water and make a thick batter (slightly thicker than pancake batter.) Beat the batter for for 7-8 minutes.The batter should become fluffy. Add baking soda,mix well and beat the batter again for 2 minutes.
4.Heat oil in a frying pan, when hot reduce the heat. Dip one potato ball in the batter and drop into the hot oil. Fry it on slow flame until it turns golden brown in color on both sides. Fry 2 or 3 balls at a time. Take out them from the pan with a slotted spoon and drain on paper towels.
Aloor chop is ready to serve. Sprinkle rock salt and pepper powder and serve as a tea-time snacks.