Hi friends,
My today's recipe is Fulori – a deep fried snack made with Bengal gram flour. It is a popular street food in Bengal. No vegetables are used in this recipe. It is very tasty to eat, requires a few ingredients and very easy to make at home.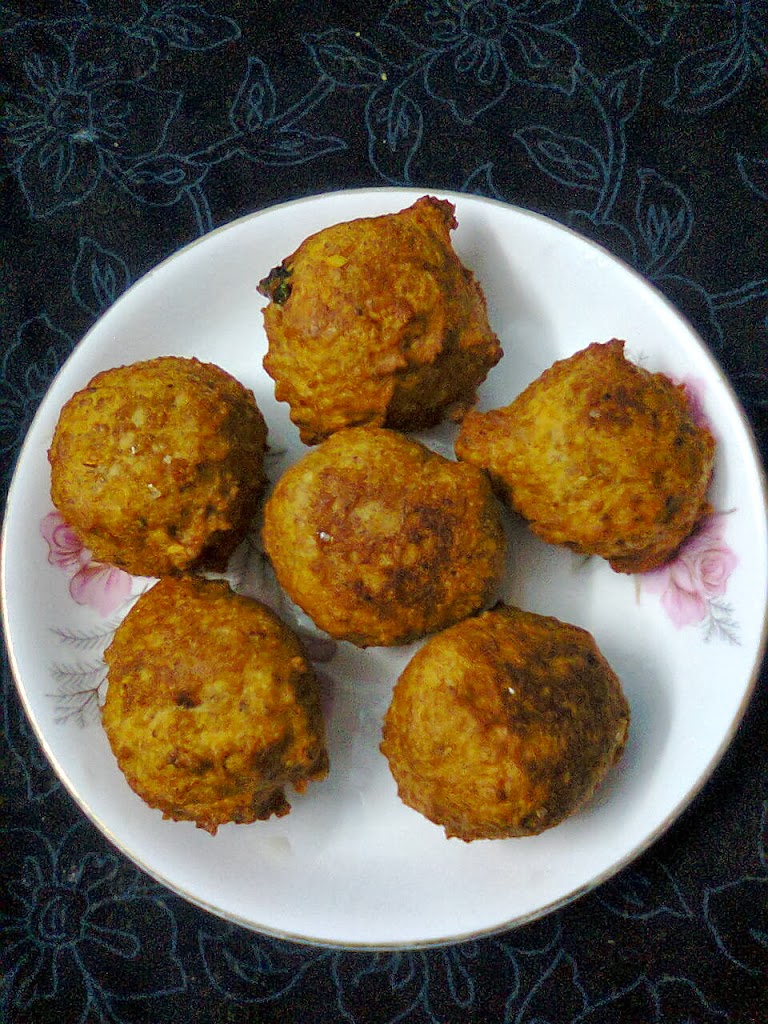 Cooking time – 30 minutes. Serve – 4
Ingredients –
1.Gram flour (Besan) – 1 cup.
2.Grated ginger – 1/4 tsp.
3.Green chilly – 2 (chopped)
4.Sugar – 1/4 tsp.
5.Salt to taste.
6.Turmeric powder – 1/4 tsp.
7.Card – 2 tbsp.
8.Oil – 2 tbsp. (for the batter)
9.Carom seeds (ajwain) – 1 tsp.
10.Baking soda – a pinch.
11.Oil for deep frying.
12.Rock salt and pepper powder (for serving)
Method –
1.Take gram flour in a large bowl. Add ginger,chilly,sugar,salt,turmeric powder,carom seeds,card and 2 tbsp. of oil. Mix well. Gradually add water and mix well to make a thick paste. Beat the paste as vigorously as possible. The paste should become very fluffy. If needed add little water. At last add baking soda, beat again for 2-3 minutes.
2.Heat oil in a frying pan, when hot reduce the heat. Make little balls from the paste and drop into oil one by one. Fry the balls on slow flame till the balls turns crispy and golden brown. Fry 3-4 balls at a time.
Remove the fried balls with a slotted spoon and drain excess oil on paper towels. Gram flour fritters/Fulori is ready to serve. Sprinkle rock salt and pepper powder and serve hot as a tea time snack.