Today we are making a traditional Bengali recipe – Luchi and potato curry. It is a popular Bengali breakfast recipe, delicious and simple to prepare.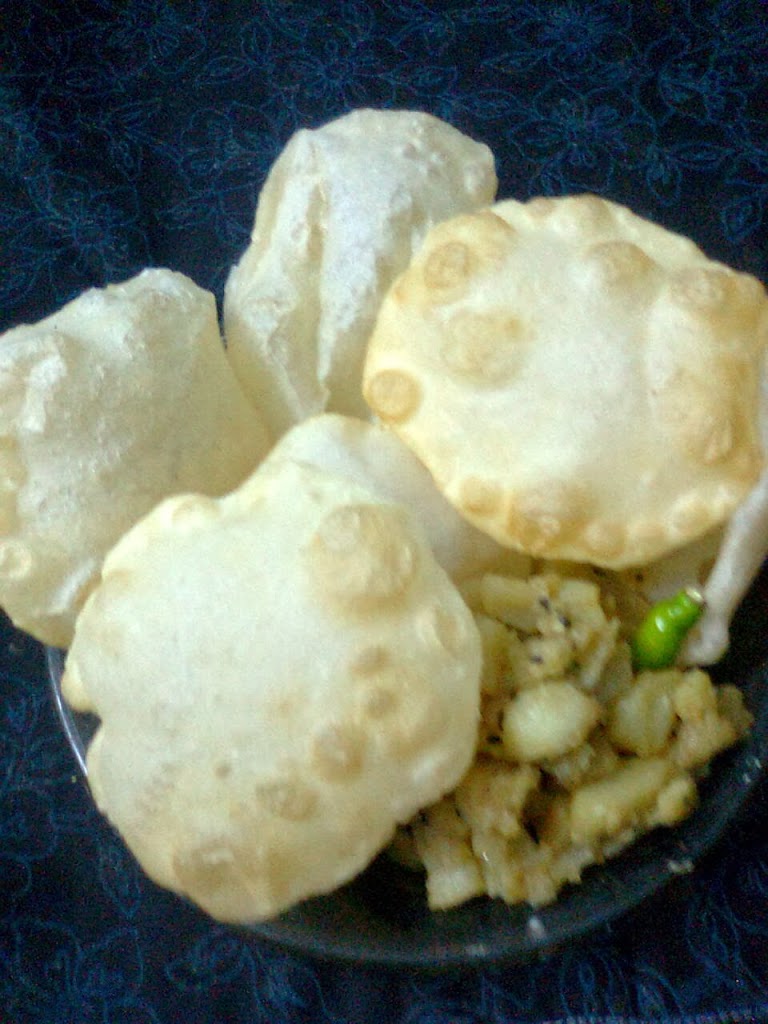 Cooking time – 1 hour. Serve – 4
Ingredients – For the Luchi.
1.Flour – 1 cup.
2.Salt – 1/4 tsp.
3.Sugar – 1/4 tsp.
4.White oil – 2 tbsp.
5.Oil for deep frying.
For the potato curry –
1.Potato – 250 (Peeled,washed & cut into small cubes)
2.Nigella seeds(kalonji) – 1/2 tsp.
3.Sugar – 1/4 tsp.
4.Salt to taste.
5.Green chilly (slit) – 2
6.Oil – 2 tbsp.
Method –
1.Take four in a large bowl. Add sugar,salt and 2 tbsp. of oil,mix well. Add water little by little, kneading the flour till a smooth dough is obtained. Cover the dough with a wet cloth, keep it rest for 30 minutes. Now make the potato curry. Boil the potato cubes with 1/2 tsp.of salt for 4-5 minutes. Drain and keep aside.
2.Heat 2 tbsp. of oil in a frying pan. Add nigella seeds, stir fry for few seconds. Add the boiled potato,sugar and salt. Saute for 4-5 minutes. Add 1 cup of water and green chilly, cook till liquid dried up (stir occasionally). Remove pan from heat. Transfer the curry to a bowl,cover the bowl. Clean out the pan.
3.Now make the luchi Knead the flour dough again and divide into small balls.Flatten each ball and roll into 4-5 inch.diameter circle (using little oil for rolling) Repeat the process with the remaining dough.Heat oil in the frying pan,when hot reduce the heat. Take one raw luchi and slow slide it from the side of the pan into the hot oil. Press gently (it will puff up the luchi). Once it puffs up , flip the other side. Remove luchi with a slotted spoon when it is creamish in color. Fry the luchi one by one.
Now Luchi and Potato curry is ready to serve. It is perfect for weekend breakfast, but it can be made for lunch or dinner.