Hi Friends,
My today's recipe is khoya samosa – a delicious sweet made of flour stuffed with khoya and dry fruits. It is very popular in Bengal, can be made easily at home.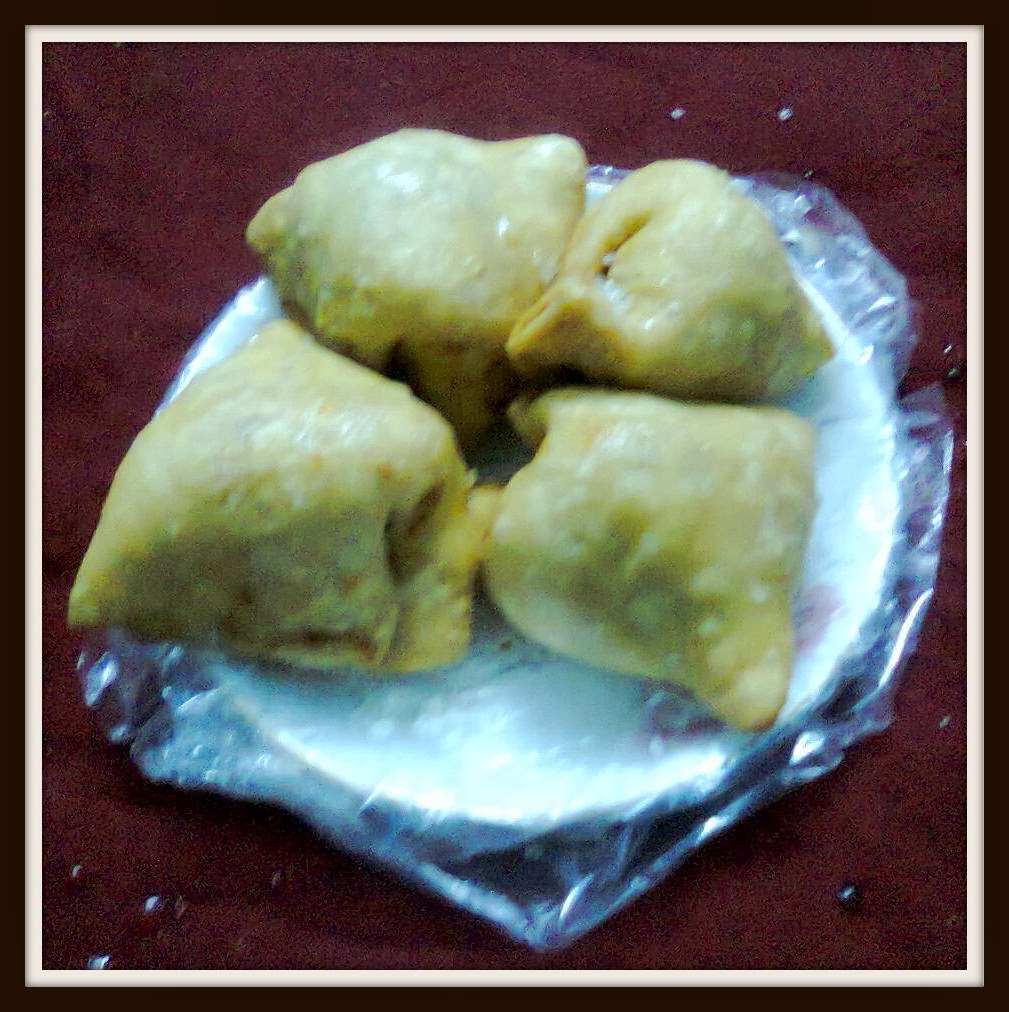 Cooking time – 45 minutes. Serve – 4
Ingredients –
For the dough – 1.Flour – 1 cup.
2.Oil / Ghee – 3 tbsp.
3.Sugar – 1/4 tsp.
4.A pinch of salt.
For the stuffing – 1.Khoya – 1/2 cup (grated)
2.Chopped cashew – 2 tbsp.
3.Clove powder – 1 tsp.
4.Sugar – 1 tbsp.
For the sugar syrup- 1.Sugar – 2 cup
2.Water – 3/4 cup.
Method –
Dough – In a large bowl take flour,sugar and a pinch of salt. Mix well. Add oil/ghee and rub it with the flour. Add cold water and knead into a stiff dough. Cover the dough with a wet cloth and keep aside for 1 hour.
Stuffing – In a non-stick frying pan mix khoya,sugar and chopped cashew nuts. Cook the mixture on slow flame for 5-6 minutes.Add clove powder (make clove powder using a mixer-grinder). Mix well . Remove the pan from heat and allow the mixture to cool.
Sugar syrup – In a pan take sugar and water, stir. On medium flame boil it until the syrup becomes sticky. Keep aside.
Cooking procedure –
1. Take the dough,knead again for 3-4 mins. Divide the dough into small balls.take one ball, place it on a greased rolling surface and start rolling of ball in oval shape(as thin as possible).
2.Cut the rolled out dough into halves.(across the width)
3.Take one part and brush water on both sides along the straight edges and fold it into a cone.
4.Stuff khoya fillings into the cone to 3/4 volume. Press to seal the open edge. Repeat the process for rest of the dough.
5.Heat oil in a frying pan. when hot reduce heat.Place 3-4 no.of stuffed cones into the oil.Fry until brown on both sides.(the temp.of the oil should be low)
6.Remove the fried stuffed cones with a slotted spoon and put into the sugar syrup. After 5-6 mins. shift them in a plate.
Khoya shingara is ready to serve. Serve as a dessert.