Hi Friends,
My today's recipe is Felafel – a famous Middle Eastern dish made with white Chickpeas. I am sharing Felafel recipe in Bengali style. It is an easy to make recipe and takes few minutes to prepare.Traditionally this delicious snack is served in Pita bread with Tahini sauce. It can be served as a tea time snack or appetizers with Ketchup or Chutney.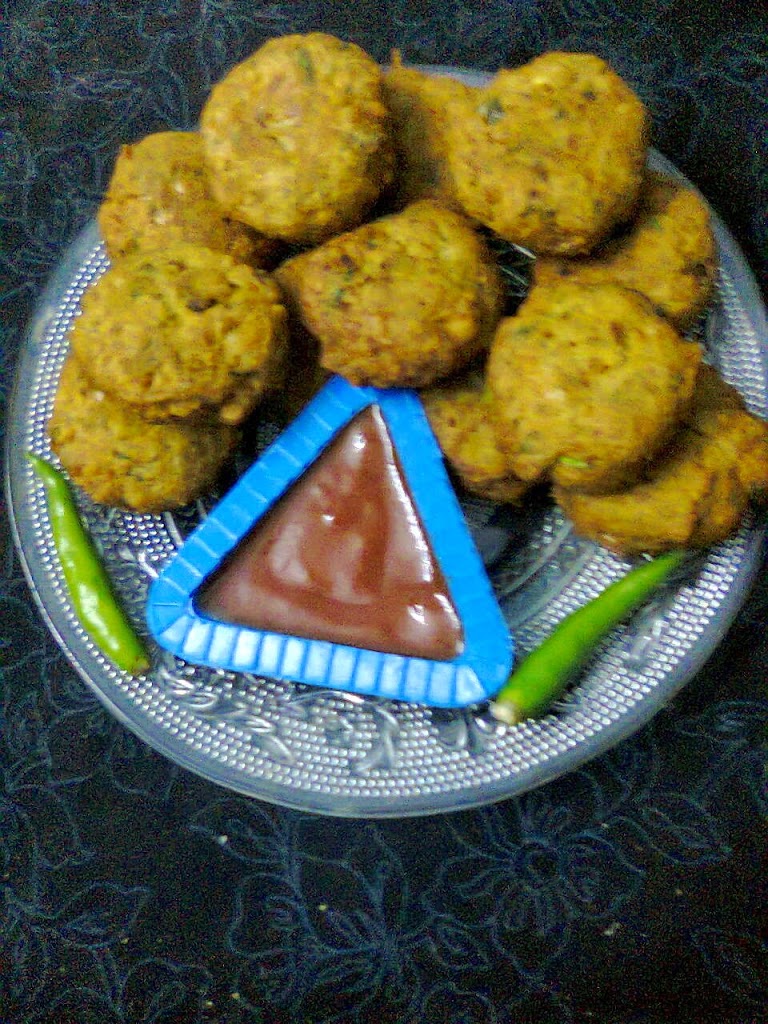 Cooking time – 30 minutes.  Serve – 4
Ingredients –
1.White Chickpeas – 200 grams (soaked overnight in enough water)
2.Onion (large) – 1 (chopped)
3.Ginger – 5 grams (chopped)
4.Garlic flakes- 6.
5.Flour (maida) – 2 tbsp.
6.Coriander leaves – 50 grams.(chopped)
7.Baking soda – a pinch.
8.Salt to taste.
9.Sugar – a pinch.
10.Green chilly – 2 (chopped)
11.Roasted cumin powder – 1/2 tsp.
12.Oil for deep frying.
Method –
1.Heat a pan and lightly roast the cumin powder on slow heat. Cover the pan,keep aside.
2.Wash the Chickpeas and drain. In a large bowl add drained Chickpeas,onion,ginger,garlic,green chilly and coriander leaves. Mix well. Grind the mixture without water. Transfer the mixture to a bowl. To this add flour,baking soda,salt,sugar and roasted cumin powder. Mix well (do not add water, the mixture should be dry). Divide the mixture into balls and flatten.
3.Heat oil in a frying pan,when hot reduce the heat. Add the chickpeas balls (5 to 6) and fry until golden brown on both sides. Increase the heat and take out the fried balls with a slotted spoon and keep in paper towels to remove excess oil. Repeat the same process with rest of the balls.
Delicious White Chickpeas Fritters is ready, Serve hot with Ketchup/Chutney.