Hi Friends,
Today I am sharing with you a simple Vegetable curry recipe made with Cauliflower Stems. It is a typical Bengali recipe, very quick and easy to prepare. The curry is non spicy,nutritious and very tasty to eat. You can use whatever vegetable you have in hand.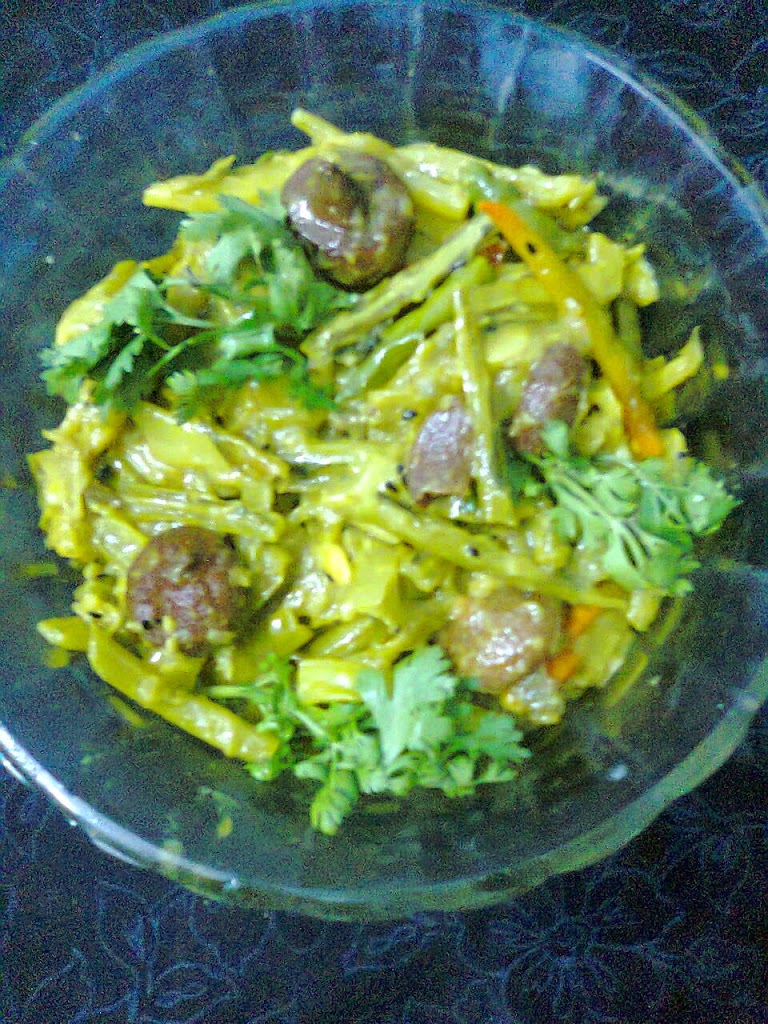 Cooking time – 40 minutes. Serve – 4
Ingredients –
1.Cauliflower Stems – 1 bowl (from 1 Cauliflower)
2.Potato – 1 (peeled and cut into cubes)
3.Eggplant (begun) – 1 (cut into cubes)
4.Sheem – 200 grams (cut into pieces)
5.Bori (Sundried Urad dal dumplings) – 6
6.Chopped Coriander leaves – 4 tbsp.
7.Chopped Cabbage leaves – 1 bowl.
8.Kalonji (Nigella seeds) – 1 tsp.
9.Salt to taste
10.Sugar – 1/2 tsp.
11.Turmeric powder – 1/2 tsp.
12.Wheat flour – 1 tbsp.
13.Slit green chilly – 4.
14.Oil – 4 tbsp.
Method –
1.Take Cauliflower stems and cut in long pieces. Cut the pieces into slices and wash well. By adding 1 tbsp.of salt boil the sliced stems for 5 to 6 minutes and drain. Wash all the chopped vegetables, keep aside.
2.Heat oil in a frying pan,when hot reduce the heat. Add the Bori and fry till brown on both sides. Take out the fried Bori from the oil, keep aside. Add Kalonji in the remaining oil, stir fry for 30 seconds. If needed add little oil and heat it. Add the boiled stems, vegetables, salt and turmeric powder and mix well. Cover the pan and cook for 5 to 6 minutes (stir in between).
3.Add 11/2 to 2 cups of water, sugar and green chilly.Cook over medium heat until the vegetables are soft. If needed add little water and cook for another few minutes. Add the fried Bori (crushed)and mix. Sprinkle Wheat flour,mix well. Keep cooking till all the water evaporates.
Remove pan from the heat, add coriander leaves and mix well.Cover the pan,give 10 minutes standing time. Tasty and healthy Cauliflower Stems Curry is ready,serve with Rice/Roti.