Hi Friends,
Today I am sharing with you a very simple snacks recipe made with various vegetables and Dosa baller. You can use Potato, Pumpkin,Eggplant,Pointed gourd (Potol) etc. The snacks is very tasty, quick and easy to prepare and with few ingredients. To this recipe you can use readymade Dosa mix or home made Dosa batter.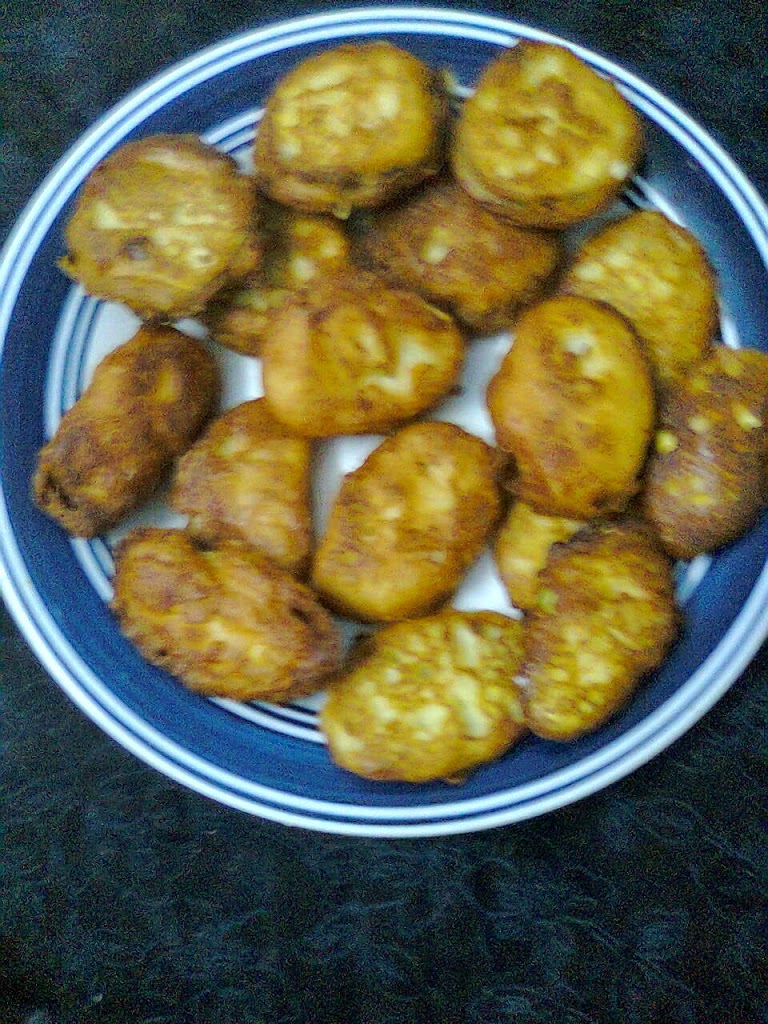 Cooking time – 30 minutes Serve – 4.
Ingredients for Dosa batter –
1.Urad dal – 1 cup (soaked in water for 6 hours)
2.Rice – 3 cups(soaked in water for 6 hours)
3.Salt – 1 tbsp.
Method –
Wash the Rice and Dal and grind to a paste (using little water). Transfer the paste to a bowl, mix salt. Cover the pan and keep aside until use.
Ingredients for the Pakora batter –
1.Dosa batter or Dosa mix.
2.Curd – 1/2 cup.
3.Turmeric powder – 1/4 tsp.
4.Red chilly powder – 1/2 tsp.
5.Oil – 1 tbsp.
Take a large bowl and add all the ingredients, mix well. Add water to make a thick batter (pouring consistency / like Pancake batter). Beat it well and keep aside.
Ingredients for the snacks –
1.Potato – 1 (peeled and sliced)
2.Eggplant – 1 (sliced)
3.Pumpkin – 200 grams (peeled and sliced)
4.Pointed gourd – 4 (peeled and sliced)
5.Oil for deep frying.
6.Rock salt (kala namak) and Pepper powder.
Method –
Wash all the sliced vegetables and keep in a colander. Beat the batter again. Heat oil in a frying pan,when hot reduce the heat. Dip the vegetable slices one by one in the batter and drop into the hot oil. Fry on slow heat until brown on both sides. Increase the heat and take out the fried slices from the oil with a slotted spoon and keep on paper towels. Fry 3 to 4 slices at a time. Again reduce the heat and repeat the process.
Delicious Vegetable Snacks is ready to serve. Sprinkle Rock salt and Pepper powder and serve hot Pakoras with Ketchup/Chutney.