Hi Friends,
Today I am sharing a non-veg side dish recipe made with Fish Head. It is a traditional Bengali recipe and very tasty to eat. It is an easy to make recipe and takes few minutes to prepare. I used Katla fish head. You can use Rohu or any big carp head.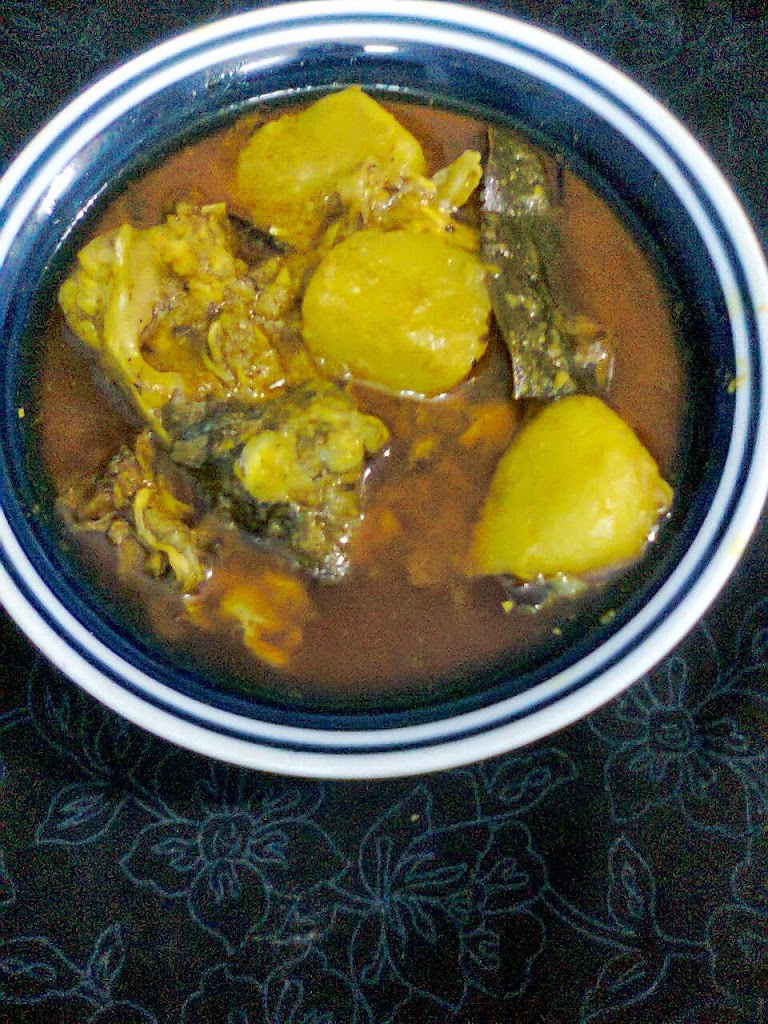 Cooking time – 40 minutes.  Serve – 4.
Ingredients –
1.Fish head – 1 (cut into halves)
2.Potato (large) – 1 (peeled and cut into cubes)
3.Cumin seeds – 1/2 tsp.
4.Bay leaves – 2
5.Onion (large) 1 (chopped)
6.Ginger paste – 1/2 tsp.
7.Garlic paste – 1/2 tsp.
8.Tomato – 1 (chopped)
9.Turmeric powder – 1/2 tsp.
10.Cumin powder – 1/2 tsp.
11.Red chilly powder – 1/2 tsp.
12.Salt to taste.
13.Sugar – a pinch.
14.Ghee – 1 tsp.
15.Garam masala powder – 1 tsp.
16.Oil – 1/2 cup.
Method –
1.Clean the fish head,rub with Vinegar or Lime juice.Wash and marinate with 1/2 tsp.of salt and a pinch of turmeric powder. Keep aside until use. Wash the potato cubes. Grind onion and tomato to a paste. To this add ginger,garlic,chilly,cumin,turmeric, 1/2 cup of water.Keep the masala mix aside.
2.Heat oil in a frying pan,add the fish head and fry until brown on both sides.Take out from oil,keep in a bowl and break into pieces.
3.Add cumin seeds and bay leaves in the remaining oil. When cumin seeds look brown add the potato cubes.Fry for 2 minutes. Add the masala mix, saute till the raw smell of the masala goes off. Add 11/2 to 2 cups of water,let it bring to boil. Add the fried head,salt and sugar. Cook for 5 to 7 minutes. When the gravy starts thickening remove pan from heat. Add ghee,garam masala powder. Cover the pan,give 10 minutes standing time.
Delicious Fish Head Curry is ready,serve with steamed Rice.