Hi Friends,
Today I am sharing with you a fish curry recipe made with Loitta fish (Bombay Duck). It is a traditional Bengali recipe and very famous throughout Bengal. The dish is spicy and very tasty to eat. The process of making the dish is very easy. It goes well with white Rice or Roti.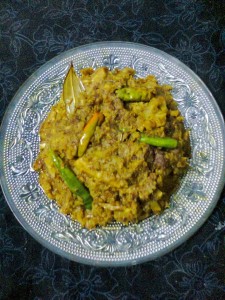 Cooking time – 45 minutes. Serve – 4
Ingredients –
1.Fish – 750 grams.
2.Potato (large) – 1
3.Tomato (large) – 1 (chopped)
4.Onion – 200 grams. (chopped)
5.Ginger paste – 1/2 tsp.
6.Garlic paste – 1 tsp.
7.Turmeric powder – 1/2 tsp.
8.Cumin powder – 1/2 tsp.
9.Chilly powder – 1/2 tsp.
10.Cumin seeds – 1/2 tsp.
11.Bay leaves – 2
12.Salt to taste.
13.Sugar – a pinch.
14.Oil – 6 tbsp.
15.Slit green chilly – 4
Method –
1.Take the fishes and discard the heads. Cut the fish into pieces, wash well and keep in a colander. Take the potato and peel the skin off. Cut it into long pieces (like French fry) and wash. Take a bowl, add ginger-garlic paste, masala powders (chilly,cumin,turmeric) and 1/2 cup of water. Keep the masala mix aside.
2.Heat 2 tbsp.of oil in a frying pan, add fish pieces. The fish will release water. Keep cooking till all the water evaporates. The fish pieces will disintegrate. So stir constantly. Remove pan from heat.
3.Heat 4 tbsp.of oil in another frying pan,add cumin seeds. When cumin look brown, add potato and bay leaves. Fry for 1 minute. Add tomato,saute for 1 minute. Add the masala mix,saute till oil separates. Add 1 cup of water, let it bring to boil. Add the disintegrated fish,salt and sugar. Keep cooking till all the water evaporates. Add slit green chilly and stir till liquid dries up completely.
Remove pan from heat,cover and give few minutes standing time. Delicious Loitta fish curry is ready. Serve with Hot Rice or Roti.