Subho Bijoya Everyone! May God bless you will all the happiness and prosperity in life..
The tradition of Bijoya is to do "Mishti Mukh"(having sweets to celebrate victory of good over evil). So, I am sharing with you a delicious sweet recipe made with Sesame Seeds and Jaggery. It is a traditional Bengali recipe, made during Festivals, like Bijoya Dashami and Lakhsmi Puja. The sweet is very tasty to eat,easy to prepare and only with few ingredients.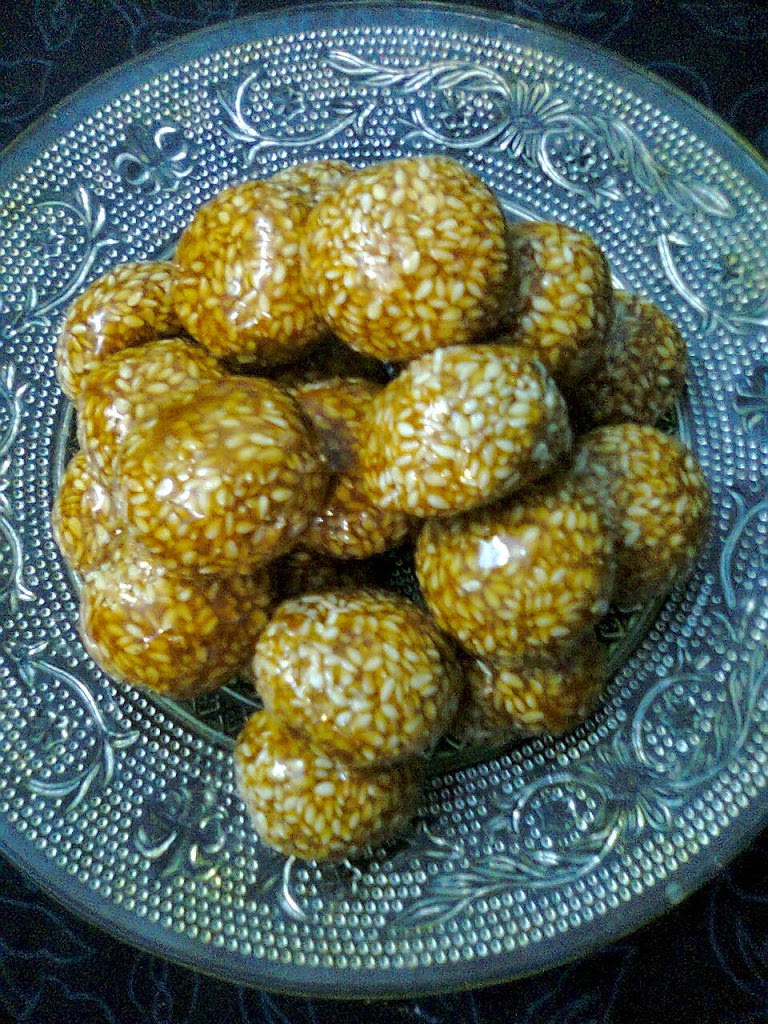 Cooking time – 30 minutes. Serve – 4
Ingredients –
1.White Sesame Seeds – 100 grams.
2.Jaggery – 100 grams.
3.Oil or Ghee for greasing.
Method-
1.Put the sesame seeds in a flat tray and pick out the small stones (if any), Place a frying pan on slow heat. Add sesame seeds and dry roast till they are light golden in color. Remove pan from the heat, transfer the seeds to a bowl.
2.Dissolve Jaggery in 1 cup of water and strain. Add Jaggery in a pan and place the pan on slow heat. Stir continuously till it become like gum. Remove pan from heat, add the roasted sesame seeds and mix very well.Grease your palms and a tray with ghee or oil.
3.When the mix is little hot, take a small portion with a spoon and roll it between your palms. 'Tiler Naru' is ready. In this way make all the Narus and keep in a greased tray.It can be stored in air tight container.
Tips: When sesame seeds are added to jaggery, this has a tendency to become hard.So the trick here is, when you are rolling the "Tiler Narus" , put the pan (with Jaggery and sesame mixed together) on pot filled with hot water. In this way, it will never become hard and will be easier for you to roll between your palms.
Thanks for viewing my recipe. Please try it at your home and let me know how it turned out.
And also don't forget to subscribe to my blog.