Hi Friends,
Today I am sharing with you a delicious sweet recipe recipe made with Pumpkin. It is Pumpkin Sondesh. It is an easy to make recipe. The sweet is very tasty and healthy. The process of making the sweet is very simple and with few ingredients.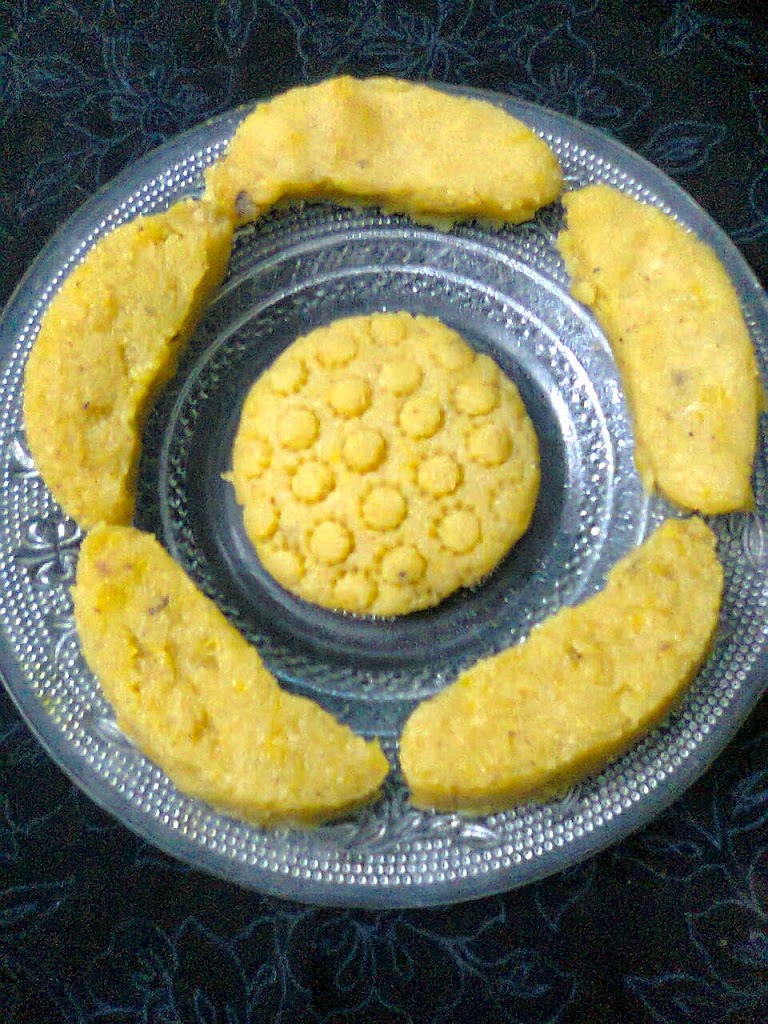 Cooking time – 40 minutes.  Serve – 4.
Ingredients –
1.Pumpkin – 200 grams.
2.Khoya or Milk powder – 200 grams.
3.Sugar – 75 to 100 grams(depends on the sweetness of the Pumpkin).
4.Cardamom powder – 1/2 tsp.
5.Ghee – 1 tbsp.
6.Rose water – 1 tbsp.(optional)
Method –
1.Take the Pumpkin and peel the skin off. Cut it into 3 pieces. Boil the Pumpkin pieces in 3 cups of water until soft and drain. Put the boiled Pumpkin in a large bowl and mash it well.
2.Melt ghee in a non stick frying pan, add the mashed Pumpkin and saute on slow heat for 3  to 4 minutes.Remove pan from heat. To this add Khoya, Sugar and mix it very well (you can use Blender)
3.Place the pan on slow heat, cook for 7 to 10 minutes with stirring continuously. Add Cardamom powder and mix well. When the mix comes together and leaves the sides of the pan, add Rose water and mix well.
Remove pan from the heat, transfer the pumpkin mix to a greased bowl let it cool for 3 to 4 minutes. Divide the mixture into small balls and shape with greased Mould. Pumpkin Sondesh is ready, serve the Sweet as a dessert.