Hello Friends!
A very warm welcome to my cooking blog.
I know, I know I was away from it for quite a while now and that is because I had a terrible gall bladder stone operation and I took sometime to recover. But as now I am back, first of all I want to thank all of you for your blessings, love and good wishes.Thanks for reading my recipes, liking it and inspiring me to innovate and write more and more recipes for you.
I am also planning to do some series of Healthy Cooking in the coming weeks.So, Please
subscribe
to my blog for the latest updated.
Ok..Enough blabbing now.. Lets start today's recipe.
My today's recipe is
Kakrol Posto (Teasel Gourd in Poppy Seed Gravy)
. I know, My Bong Friends are already excited by now.
For Others, It's a traditional Bengali Dish. The curry is very simple to prepare and requires a few ingredients.It's a very good side dish option for Roti/Rice.
Here is the final Outcome..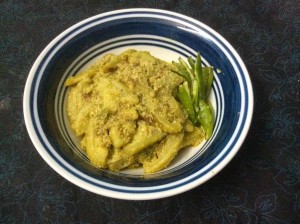 Like it? Lets see how I made it..
Cooking time
– 30 minutes.
Serve
– 4.
Ingredients
Kakrol – 250 grams (approx. 5-6 pcs)
Poppy seeds – 70 to 100 grams.
Nigella seeds (kalonji) – 1/4 tsp.
Green chilly – 2
Slit green chilly – 4
Salt to taste.
Sugar – 1/4 tsp.
Oil – 4 tbsp.
Ghee – 1/2 tsp.(optional)
INSTRUCTIONS
Scrape the kakrols and cut into 4 to 6 pieces (lengthwise). By adding 1 tsp.of salt boil the pieces in 2 cups of water for 3 to 4 minutes, drain and keep aside..
Using mixer grinder grind poppy seeds into a powder. Add 1 cup of water and 2 green chilly, grind to a smooth paste. Keep the poppy seeds paste aside.
Heat oil in a frying pan, when hot reduce the heat. Add kalonji in the remaining oil, stir fry for 30 seconds. Add the boiled kakrols and stir fry for 2-3 minutes.
Add the poppy seeds paste, Saute for 2 minutes on medium heat. Add 1 cup of water,sugar and salt, let it bring to boil.Add the slit green chilly. Keep cooking till all the water evaporates (stir occasionally).
Remove pan from the heat, add ghee and mix gently. Cover the pan, give 5 to 6 minutes standing time. Serve the tasty dish with Rice/Roti.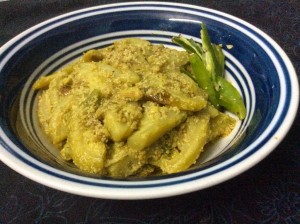 Please subscribe to my blog for more tasty recipes.Let me know your comments, request and anything you want to share with me.