Hi friends,
Today I am sharing with you a very simple side dish recipe made with Hinche shak and vegetables. It is a traditional Bengali side dish recipe, nutritious and quick and easy to prepare. To this dish I used summer vegetables. You can use any vegetable you have in hand.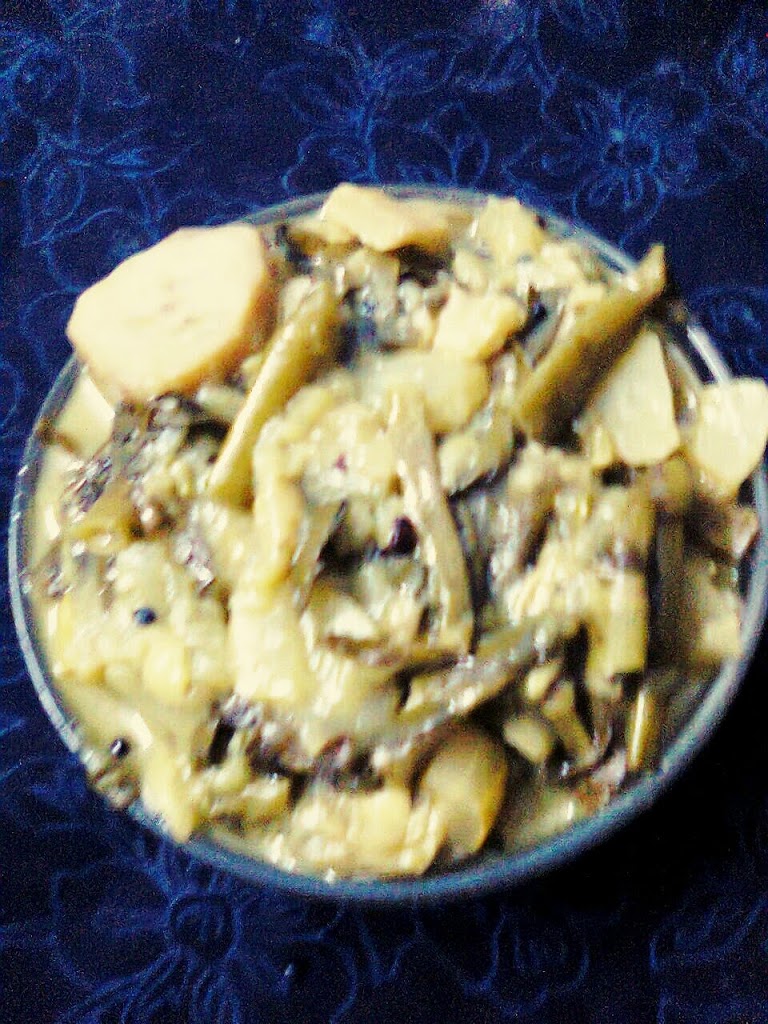 Cooking time – 40 minutes. Serve – 4
Ingredients –
1.Hinche shak – 200 grams.
2.Eggplant (begun) – 200 grams.
3.Ridge gourd – 200 grams (peeled)
4.Pointed gourd (parwal) – 100 grams (peeled)
5.Yard long bean (barboti) – 100 grams.
6.Raw banana – 2 (peeled)
7.Raw papaya – 1/4 portion (peeled)
8.Mustard seeds – 1 tsp.
9.Fenugreek seeds – 1/2 tsp.
10.Bay leaves – 2
11.Ginger paste – 1 tsp.
12.Turmeric powder – 1/2 tsp.
13.Salt to taste.
14.Sugar – 1/4 tsp.
15.Oil – 2 tbsp.
16.Ghee – 1 tsp.
17.Wheat flour – 1 tbsp.
18.Milk or water – 1/4 cup.
Method –
1.Take the tender stems and fresh leaves of the Hinche shak, chop roughly and wash well. Cut all the vegetables into small pieces, wash and soak in water for 10 minutes. After 10 minutes transfer them to a colander.
2.Heat oil in a frying pan, when hot reduce the heat. Add mustard seeds, when crackling add bay leaves and fenugreek seeds, stir fry for 40 seconds. Add all the vegetables, Hinche shak, salt, turmeric powder and ginger paste. Mix well. Cover the pan and cook for 5 to 6 minutes on medium heat (stir in between). Add 11/2 cups of water and sugar, let it bring to boil. Cook till vegetables become tender. If needed add little water and cook for another few minutes. In a small bowl add wheat flour and milk or water, mix well. Add the flour mixture to the pan, stir well and cook for 2 to 3 minutes. Remove pan from the heat, add ghee, cover the pan and give 7 to 8 minutes standing time.
Healthy and tasty Hinche Shak Shukto is ready, serve as a first item for Lunch.