Hi friends,
My today's recipe is vegetable pakoda. It is an easy to make snacks recipe and very popular in India. This snacks is made with various vegetables and very tasty to eat. You can use any vegetable you have in hand.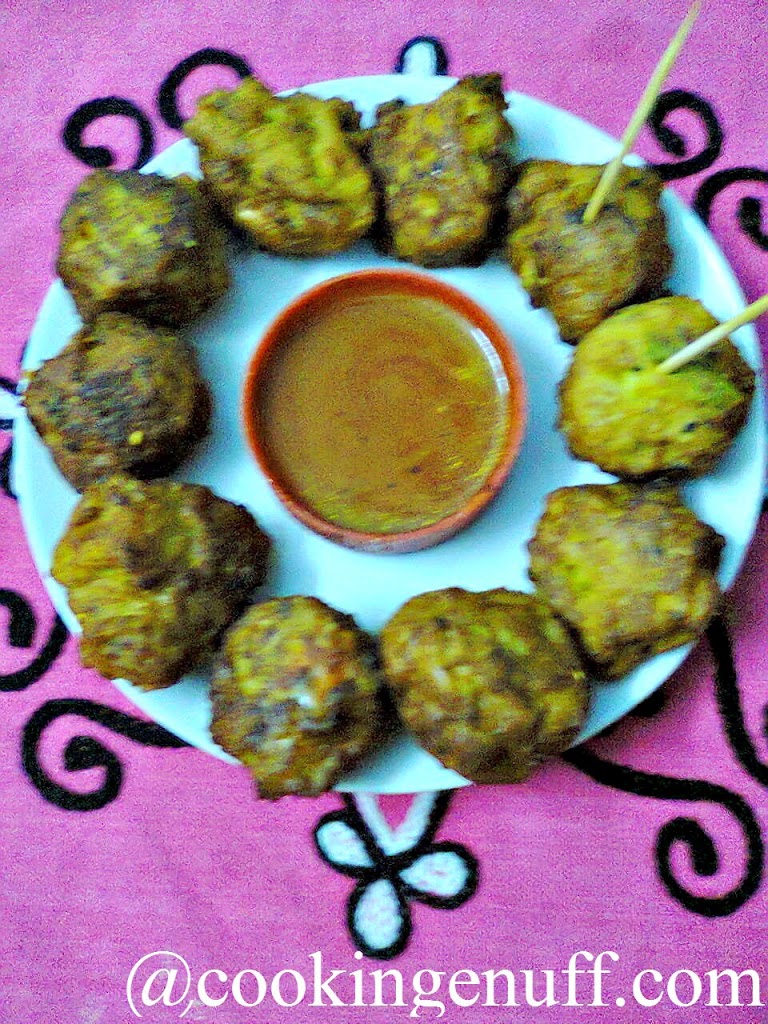 Cooking time – 40 minutes. Serve – 4
Ingredients –
1.Potato – 1 (boiled and peeled)
2.Cauliflower – 4 (florets)
3.Carrot – 1
4.Cabbage (shredded) – 1 cup.
5.Egg (beaten) – 1.
6.Corn flour – 1 tbsp.
7.Flour – 1 tbsp.
8.Chilly powder – 1/2 tsp.
9.Sugar – a pinch.
10.Garlic paste – 1/2 tsp.
11.Ginger paste – 1/2 tsp.
12.Garam masala powder – 1/2 tsp.
13.lemon juice – 2 tbsp.
14.Chopped coriander leaves – tbsp.
15.Salt to taste.
16.Oil for deep frying.
Method –
1.Mash the potato, keep aside. Grate the cauliflower florets and carrot.
2.Heat 1 tbsp.of oil in a frying pan, add ginger,garlic,chilly and 1/2 cup of water.Saute for 2 minutes. Add cauliflower,cabbage,carrot,sugar,salt and 1/4 cup of water. Keep cooking till all the water evaporates.Add the mashed potato, mix well. Remove pan from heat, let it cool.
3.Transfer the vegetable mixture to a bowl. To this add flour,corn flour,coriander leaves,egg,garam masala powder and lemon juice. Mix well and make a thick paste.
4.Heat oil in a frying pan, when hot reduce the heat. Make little balls of the paste and drop into the hot oil. Fry on slow flame till the balls turns crispy and golden brown. Fry 4 to 5 balls at a time. Increase the heat and take out the fried balls with a slotted spoon and keep on paper towels.
Serve the delicious snacks with sauce/chutney or ketchup.