Hi friends,
Today I am sharing with you a unique recipe made with Taro Stolons. In Bengal it is called Loti Paturi. It is a traditional dish of Bengal and very tasty to eat.It is a dry dish, very simple to prepare and requires a few ingredients.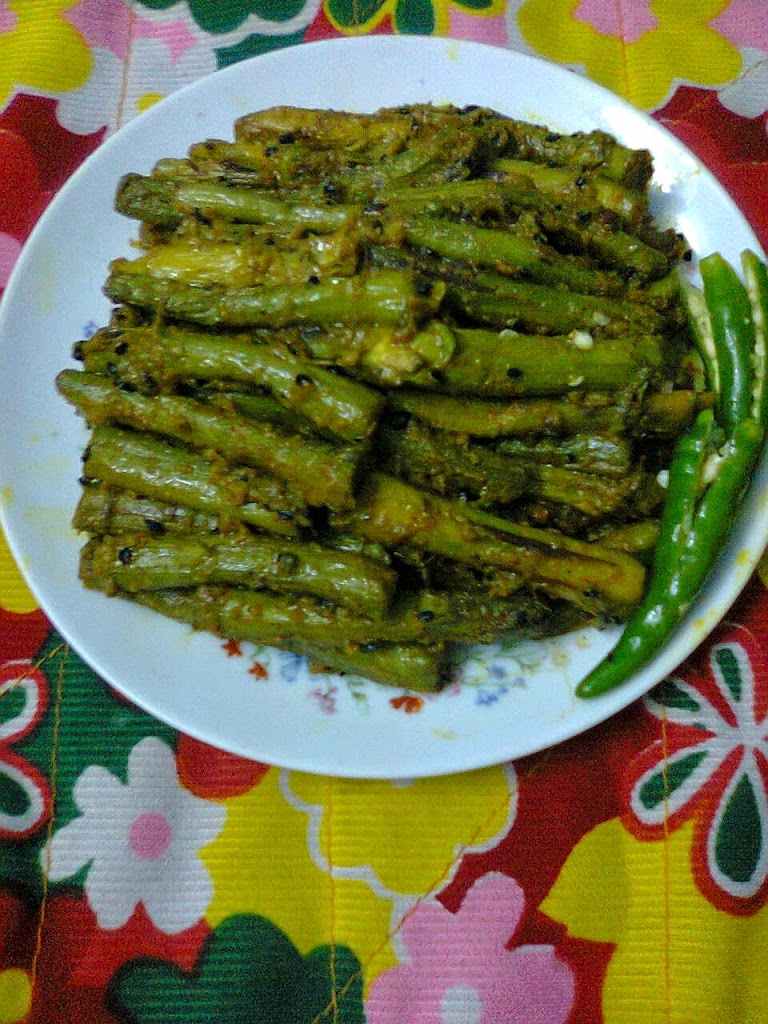 Cooking time – 40 minutes. Serve – 4
Ingredients-
1.Loti (taro stolons) – 400 grams.
2.Onion – 1 (chopped)
3.Ginger paste – 1/2 tsp.
4.Garlic paste – 1/2 tsp.
5.Turmeric powder – 1/2 tsp.
6.Chilly powder – 1/4 tsp.
7.Cumin powder – 1/4 tsp.
8.Coriander powder – 1/4 tsp.
9.Tomato – 1 (chopped)
10.Salt to taste.
11.Sugar – 1/4 tsp.
12.Nigella seeds (kalonji) – 1/2 tsp.
13.Dry red chilly – 2
14.Oil – 4 tbsp.
15.Slit green chilly – 4.
Method – [ Use non stick frying for this dish ]
1.Remove the skin of loti well, cut into 2 inch.pieces and soak in 1 liter of water by adding 1 tbsp.of salt and a pinch of turmeric powder for 20 minutes. Drain the water.
2.Boil 1 lit. of water in a pan, add the loti and boil for 5 to 6 minutes (or boil until just tender). Transfer the boiled loti to a strainer, let it cool.
3.In a small bowl add ginger, garlic.turmeric, chilly,cumin,coriander powder and 1/2 cup of water, mix well. Keep the masala mix aside. Heat oil in a non stick pan, add dry red chilly and fry until brown. Reduce the heat, add kalonji, stir fry for 30 seconds. Add tomato,saute for 1 minute. Add the masala mix and sugar and saute until the raw smell of the masalas goes off. Add 1/2 cup of water and salt, let it bring to boil. Mix the loti and green chilly slowly and cook till all the water evaporates. When the oil starts floating toss the loti. You can stir it also. Stir gently because loti pieces break easily. Let the loti pieces turn light brown on both sides.
Bengali Loti Paturi is ready, serve this delicious dish with steamed Rice.