Hi friends,
Today I am sharing with you a vegetarian side dish recipe made with Raw Papaya and Besan Pakoda. It is a simple recipe but delicious and easy to prepare. It goes well with Rice/Roti or Paratha.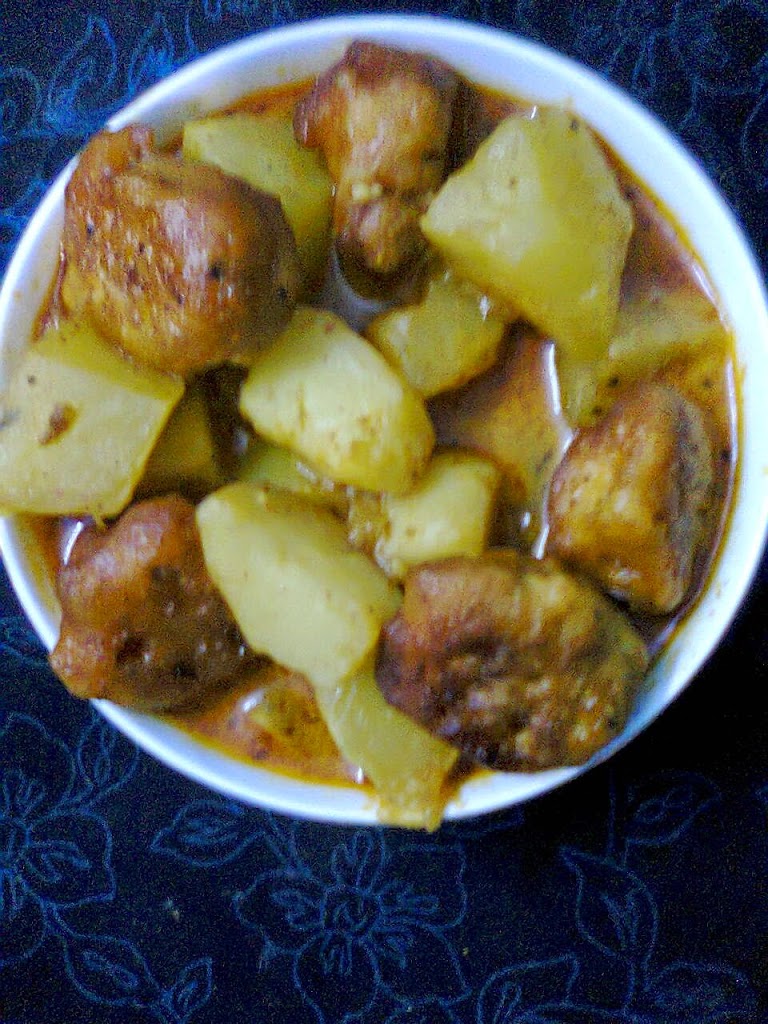 Cooking time – 40 minutes. Serve – 4
Ingredients – (For the Pakoda)
1.Besan – 1/2 cup.
2.Card – 1 tbsp.
3.Salt to taste.
4.Sugar – a pinch.
5.Turmeric powder – a pinch.
6.Green chilly – 2 (finely copped)
Method –
1.In a large bowl add all the ingredients and mix well. Add little water and make a paste. Beat the paste very well, set aside for 10 minutes.
2.Heat oil in a frying pan, when hot reduce the heat. Make little balls of the paste and drop into the oil. Fry on slow heat till the balls turn golden brown. Increase the heat and take out the fried balls with a slotted spoon. Fry 4 to 5 balls at a time. Keep the fried balls aside.
Ingredients – (For the curry)
1.Raw papaya (medium) – 1
2.Potato (medium) – 1 (peeled and cut into cubes)
3.Tomato – 1 (chopped)
4.Ginger paste – 1/2 tsp.
5.Turmeric powder – 1/2 tsp.
6.Chilly powder – 1/2 tsp.
7.Cumin powder – 1/2 tsp.
8.Salt to taste.
9.Sugar – 1/4 tsp.
10.Cumin seeds – 1/2 tsp.
11.Fenugreek seeds – 1/4 tsp.
12.Ghee – 1 tsp. And Oil – 2 tbsp.
Method –
1.Peel the papaya and cut into halves. Remove all seeds and hard skin from the center. Cut into cubes, wash and boil in 4 cups of water for 3 minutes. Add the potato cubes and boil for another 2 minutes, drain and keep aside.
2.Heat oil in a frying pan, add cumin seeds. When the cumin looks brown reduce the heat, add fenugreek seeds, stir fry for 30 seconds. Add the boiled papaya and potato, fry for 2 minutes. Add tomato, saute for 1 minute. Add turmeric, chilly, cumin powders,sugar and 1/2 cup of water, Saute till oil separates. Add 2 to 3 cups of water and salt, let it bring to boil. Cook till the vegetables are soft. Add the fried pakodas, cook for 1 minute. Add ghee and remove pan from the heat. Cover and give 15 minutes standing time.
The delicious Papaya curry is ready to serve. To this you can add garam masala powder also.