Hi friends,
My today's recipe is Tadka Dal – a delicious dal recipe made with whole moong  and chana dal. It is a famous recipe of dal and very popular throughout India. It is spicy and wonderful aromatic. Tadka Dal is very tasty to eat and very easy to prepare.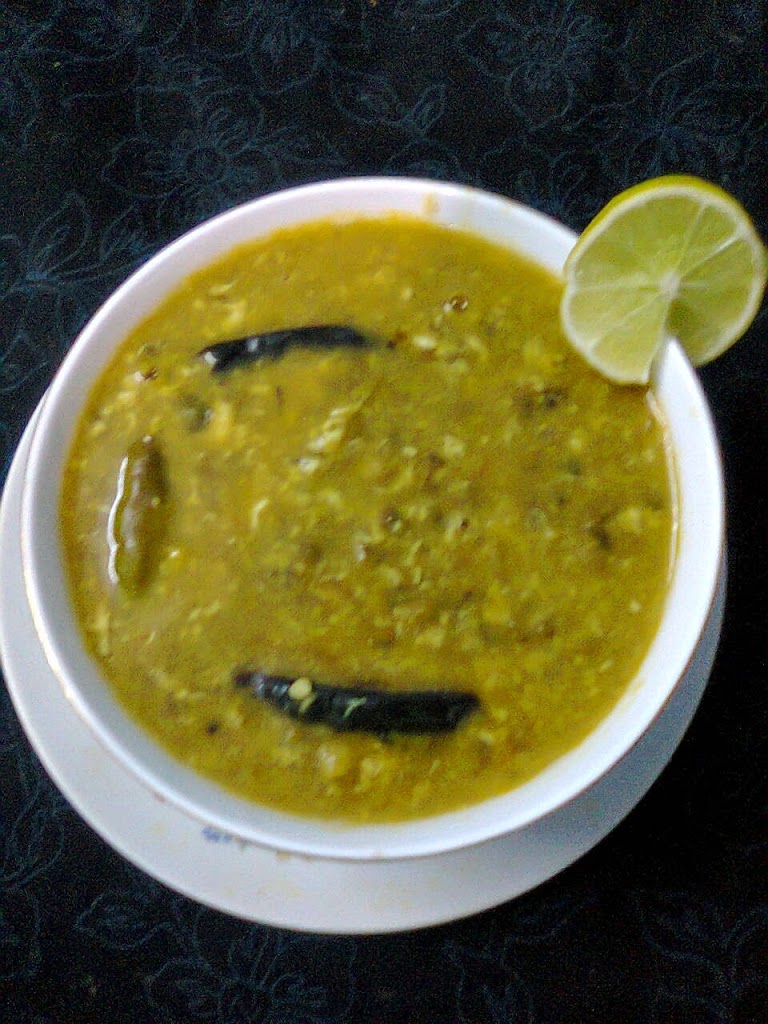 Cooking time – 50 minutes.   Serve – 4
Ingredients –
1.Whole moong dal (green color) – 250 grams.
2.Chana dal (Bengal gram) – 50 grams.
3.Cumin seeds – 1/2 tsp.
4.Dry red chilly – 2
5.Bay leaves – 2
6.Onion (large) – 1 (chopped)
7.Ginger paste – 1/2 tsp.
8.Garlic paste – 1/2 tsp.
9.Red chilly powder – 1/2 tsp.
10.turmeric powder – 1/2 tsp.
11.Cumin powder – 1/2 tsp.
12.Salt to taste.
13.Sugar – 1/2 tsp.
14.Tomato – 1 (chopped)
15.Slit green chilly – 4
16.Ghee – 1 tsp.
17.Hing (Asafoetida) – a pinch.
18.Shahi garam masala powder – 1/2 tsp.
19.Dry fenugreek leaves (kasouri methi) – 1 tbsp.(crushed)
20 .Oil – 2 tbsp.
Method –1. Wash the lentils and pressure cook in 4 cups of water by adding 1 tbsp.of salt and turmeric powder until tender. Transfer to a bowl. Mash the dal lightly with a ladle.
2.Heat oil in a frying pan, add dry red chilly and stir fry until brown. Add cumin seeds and bay leaves. Reduce the heat. When the cumin looks brown add Hing, fry for 15 seconds. Add onions and fry till onions are transparent. Add tomato, saute for 1 minutes. Add ginger,garlic,chilly,cumin powder and 1/2 cup of water. Saute till oil separates. Add the boiled dal, sugar and little salt and cook for 5 to 6 minutes on medium heat (stir occasionally). Add ghee,green chilly,garam masala powder and fenugreek leaves and mix well. When the dal starts thickening remove pan from the heat, cover and give 10 minutes standing time.
The delicious Tadka Dal is ready, serve with Roti or Paratha.