Hi friends,
Today I am sharing with you a delicious side dish recipe made with Snake Gourd. It is a traditional Bengali recipe and very easy to prepare. It is a popular recipe and takes few minutes to prepare. I have made the dish without potato, but you can add potato also.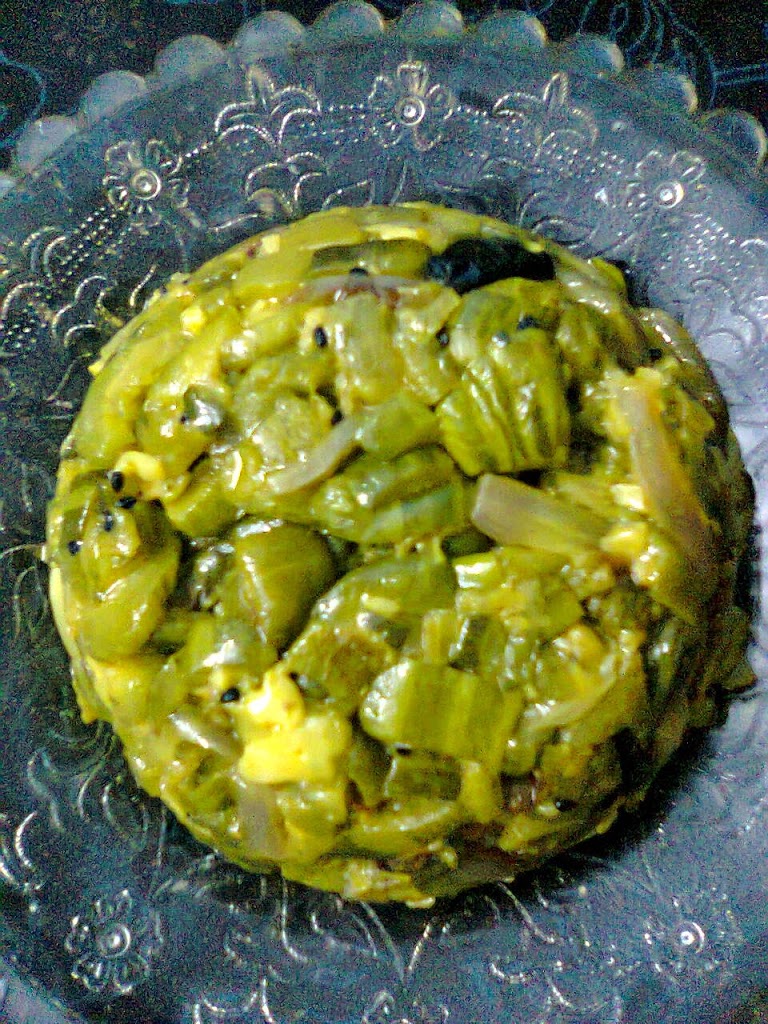 Cooking time – 30 minutes. Serve – 4.
Ingredients –
1.Snake gourd – 500 grams.
2.Tomato – 1 (chopped)
3.Dry red chilly – 1
4.Cumin seeds – 1/4 tsp.
5.Onion – 1 (chopped)
6.Ginger paste – 1/2 tsp.
7.Garlic paste – 1/2 tsp.
8.Turmeric powder – 1/2 tsp.
9.Chilly powder – 1/2 tsp.
10.Cumin powder – 1/4 tsp.
11.Salt to taste
12.Sugar – 1/4 tsp.
13.Slit green chilly – 2
14.Oil – 2 tbsp.
Method –
1.Scrape the gourds.(If you have tender gourd, do not scrape it). Wash the gourds well and pat dry. Take one gourd and cut into two halves (lengthwise). Cut the halves into thin slices (you can discard the seeds). Keep aside.
2.In a bowl add ginger-garlic paste, chilly-cumin-turmeric powders and 1/2 cup of water and mix well. Keep the masala mix aside.
3.Heat oil in a frying pan, add dry red chilly and stir fry until brown. Add cumin seeds, when the cumin looks brown add onions. Fry till light brown. Add the snake gourd slices and stir fry for 3 to 4 minutes (on slow heat). Do not add salt at this stage because the gourd juice will come out. Add tomato, saute for 1 minute. Now add the masala mix, saute until the raw smell of the masala goes off. Otherwise add little water and saute for extra few minutes. Add 1 cup of water, sugar and salt. Keep cooking till all the water evaporates (stir occasionally).
Remove pan from the heat,add green chilly, cover the pan and give 5 to 6 minutes standing time. The delicious Snake Gourd Curry is ready, serve with Roti/Chapati or Paratha.