Hi friends,
Today I am sharing with you a lentils recipe made with Golden grams (Moong dal) and Ash Gourd. It is a traditional Bengali recipe, very tasty and easy to prepare and perfect for summer.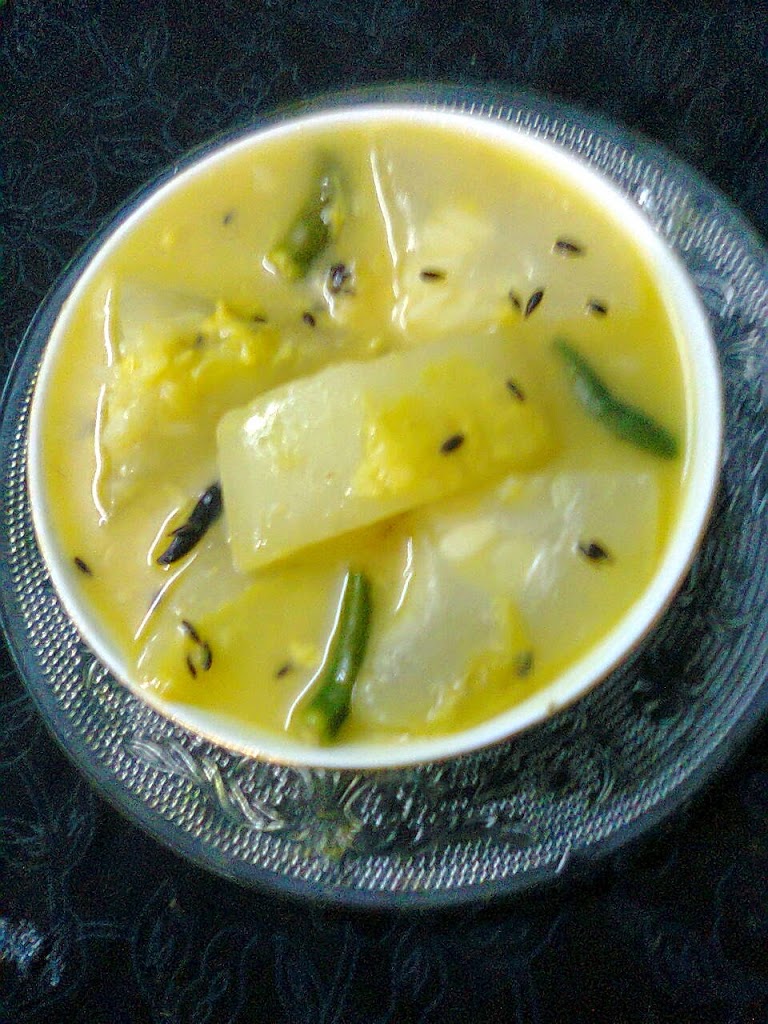 Cooking time – 40 minutes. Serve – 4
Ingredients –
1.Ash gourd – 500 grams.
2.Moong dal – 200 grams.
3.Dry red chilly – 2.
4.Cumin seeds – 1/2 tsp.
5.Turmeric powder – 1/2 tsp.
6.Salt to taste.
7.Sugar – 1/4 tsp.
8.Slit green chilly – 4
9.Oil – 1 tbsp.
10. Ghee – 1 tsp.
Method –
1.Peel and wash the gourd and cut into cubes. In a frying pan dry roast the moong dal till light brown with stirring constantly. Remove pan from the heat, wash the moong dal.
2.By adding turmeric and salt boil the dal in 4 cups of water for 7 to 8 minutes. Add the ash gourd cubes. Cook until the dal and gourd are cooked. If needed add water.
You can use pressure cooker. Remove pan from the heat, transfer the dal to a bowl. Clean out the pan.
3.For the tempering heat oil in the frying, add dry red chilly. Stir fry until brown. Add cumin seeds. When the cumin becomes brown add the boiled dal and stir. Add sugar and green chilly.Cook for 3 to 4 minutes. You can add extra water to make the dal more soupy. Check the seasoning. Take out the pan from the heat, add ghee, cover the pan and give 10 minutes standing time.
The delicious Ash Gourd Dal is ready to serve. Serve with steamed Rice or Roti.